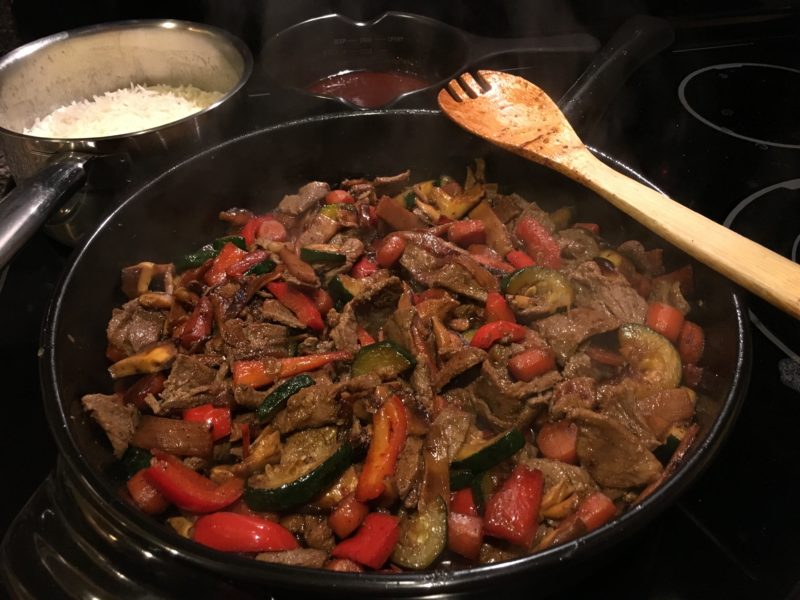 1/4 cup balsamic vinegar
1/3 cup natural ketchup
1/8 cup honey
1 TBSP worcestershire
1/2 TBSP mustard
1/8 tsp salt
1/8 tsp pepper
1 TBSP butter
Add everything to a small pot, bring to a boil, reduce to low heat and simmer, uncovered, for about 15 minutes (stirring occasionally) as it reduces & thickens. Mix a little into your stir fry, and save the rest for dipping or drizzling over the top.
__________________________________________________________________________
NOTES:
~  It's all about the sauce… am I right!? 🙂  This one is very intense! Drizzle it on whatever. I used to call it my *steak sauce*, but I never use it on *real* steak. Well, I kind of do. I use "minute steak" (also called "shaved steak") for my stir-fries, and this is the sauce I use to go with it. I posted my "beef stir fry" many moons ago ( http://realfoodtastesgood.com//?s=beef+stir+fry&x=0&y=0 ). It's that, with this sauce. Use whatever veggies you'd like – and cook some rice or noodles to line the bowl. This time, I used onions, carrots, bamboo shoots, red bell pepper, zucchini, & shiitake mushrooms.
~ This is probably half of a recipe. You might want to consider doubling it. The sauce was enough for 2 big servings, but we have leftover stir-fry and no more sauce. Easy enough to make, so I'll whip up a little more tomorrow 🙂
Enjoy!