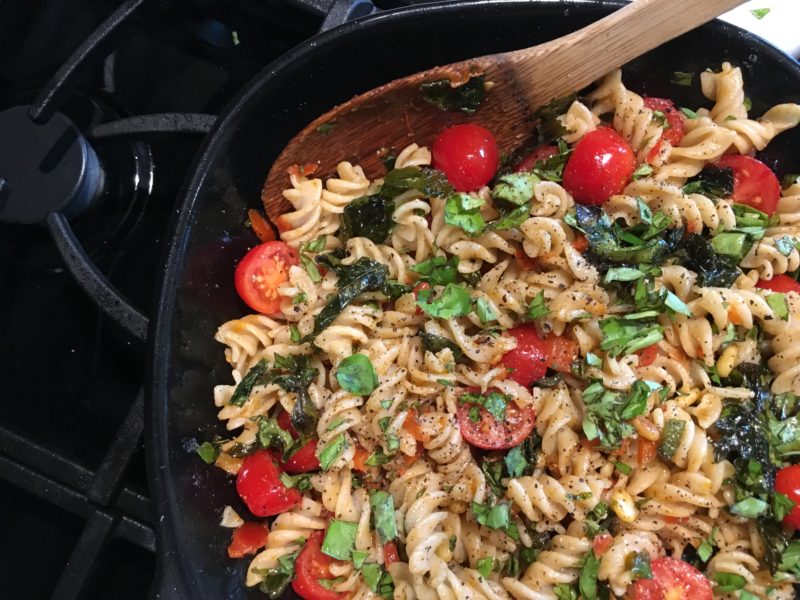 2 TBSP pine nuts, toasted
(Real) butter (a spoonful for sauteing) (or olive oil if lactose intolerant)
4-6 cloves of garlic, chopped into chunks
1-2 jalapeno peppers, diced, with seeds (optional)
6 large kale leaves (give or take), (or greens of choice) stems removed & torn into pieces
2-3 oz chopped sun-dried tomatoes
Fresh basil (large handful), chopped
15 grape tomatoes, cut in half
Kalamata olives (as much as you'd like)
6 oz pasta of choice, cooked al dente
Generous drizzle of extra virgin olive oil
Salt & pepper to taste
While bringing pasta water to a boil, prep the vegetables.
Toast pine nuts in a small, dry pan on medium-low heat for just a few minutes (they can burn quickly, so keep your eye on them! –Once they become aromatic and begin to brown slightly, remove them from pan to cool.)
While pasta is cooking, melt butter in a large saute pan over medium heat, and saute chopped garlic until beginning to brown. Remove garlic from pan with slotted spoon and set aside (leaving as much of the garlicky butter in the pan as possible).
Add chopped jalapeno (if using) to the same pan the garlic was cooked in, and saute a few minutes, until softened.
Add chopped Kale (or greens of choice), and saute 5-10 minutes until wilted (add more butter if necessary).
Add half of the chopped basil, all of the sun-dried tomatoes, and saute a few minutes longer.
Drain cooked pasta and toss into the pan with the vegetables.
Turn off the heat, add the grape tomatoes, Kalamata olives, toasted pine nuts, garlic, and toss to combine.
Add a generous drizzle of high-quality olive oil, salt and pepper to taste, and toss again.
Garnish with remaining fresh basil.
Serves 1.
__________________________________________________________________________________________
SIDE NOTES:
~  Why did it take me this long to come up with such an easy and to-die-for pasta dish like this? Not sure, but I am in love. It's simple but Earth-shattering at the same time. This is 1 very hearty serving. Double, triple, or quadruple to feed your favorite peeps.
~  For convenience, you can use pre-washed, boxed baby kale (found near the pre-washed / boxed lettuce)
~  I always keep a jar of Delallo's Sun-dried tomato Bruschetta on hand (and use a few big spoonfuls for this).
~  You can't use too much basil, so if you have a bunch of it – just pile it in!
~  I've made it 3 times now. One of these days, after sauteing the jalapeno, I will throw in some chorizo sausage, but for now, I have been enjoying this vegetarian version.
The photo was taken just before I realized I had Kalamata olives in the fridge. I tossed quite a few of those in! I hope you enjoy this as much as I do!!  🙂