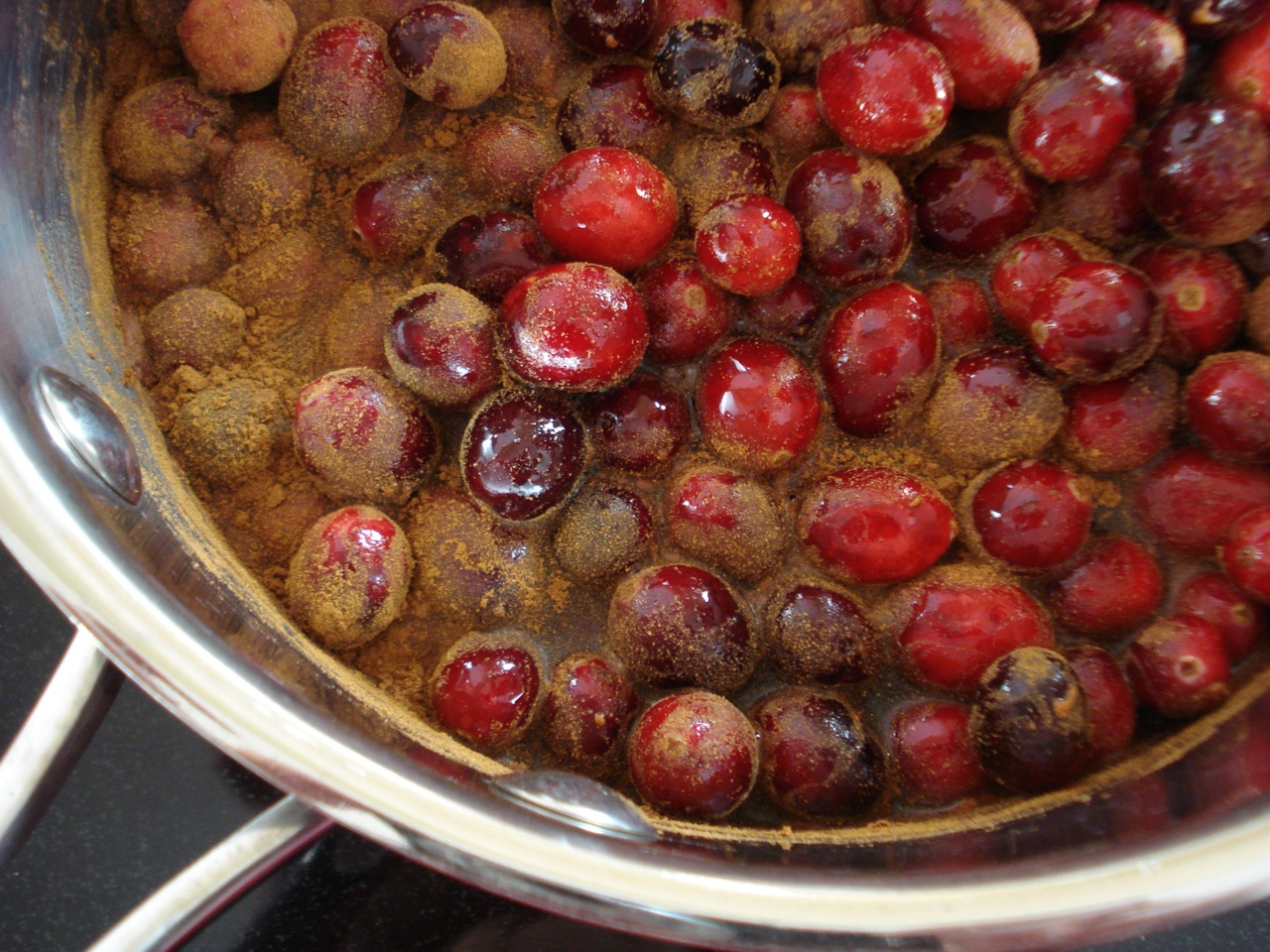 1/2 cup pecan halves (optional)
1/2 cup Madeira (or other sweet dessert wine such as Marsala)
3/4 cup maple syrup (or 1/2 cup if you prefer tart)
1 tsp ground cinnamon
12 oz (3 cups) cranberries, fresh or frozen
Pinch of pure salt
Preheat oven to 300.
Spread the pecans on a baking sheet and toast for 8 – 10 mins, or until fragrant.
Remove from oven, let cool for a few minutes, and roughly chop by hand (see notes).
In a medium saucepan, combine the wine, maple syrup, cinnamon, cranberries, and salt.
Cover and bring to a boil, watching carefully to make sure it does not boil over.
Uncover and cook at a rapid simmer for 15-20 mins, stirring every so often, until the cranberries have burst and the liquid has reduced enough to become sauce.
Stir in the pecans, pour into a bowl, and refrigerate until cool.
Serve cold or at room temperature.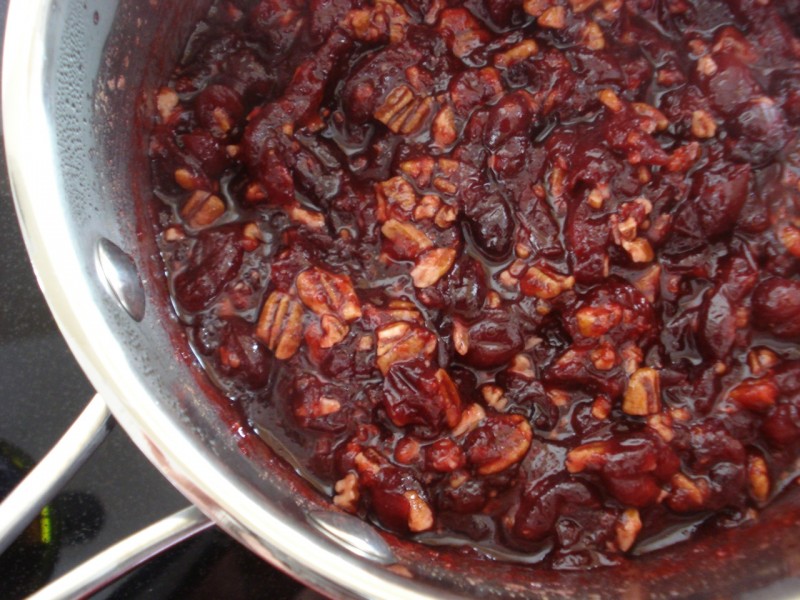 ________________________________________________________________________________
SIDE NOTES

:

~  Love this cranberry sauce!  I made it for the first time last Thanksgiving, and planned to post the recipe this year, a week or so before Thanksgiving.  I completely forgot!  So, rather than waiting until next November, I thought I'd post it now  =)

~  Adapted from "The Voluptuous Vegan"

~  Fresh cranberries are only available from September through December, so by all means, pick up extra to freeze for future use.  Freeze them (without washing) in a freezer bag for up to a year.  DO NOT THAW before using.  Simply rinse them off in cold water and use as you would fresh cranberries.

~  If you happen to have some on hand, you can substitute mirin (sweet Japanese cooking wine) for the Madeira.

~  I use germinated pecans (soaked and dried) and do not toast them.  I recommend doing one or the other (toasting or germinating) rather than using raw pecans.  Of course, the pecans can be omitted, but they do add nice crunch and flavor.

~  Organic cranberries seem to come in 8 oz containers (and I typically use 2 for cranberry sauce).  Non organic versions often come in a 12 oz size.  So here's the recipe scaled up:

For 16 oz cranberries:
2/3 cup pecan halves (optional)
2/3 cup Madeira (or other sweet dessert wine such as Marsala)
1 cup maple syrup (or 3/4 cup if you prefer tart)
1 rounded tsp ground cinnamon
16 oz (4 cups) cranberries, fresh or frozen
1/8 tsp pure salt

~ I love this little gadget for chopping nuts. I believe it's called "kwik chop". There's more info on it in my "favorite-kitchen-tools-&-gadgets" post.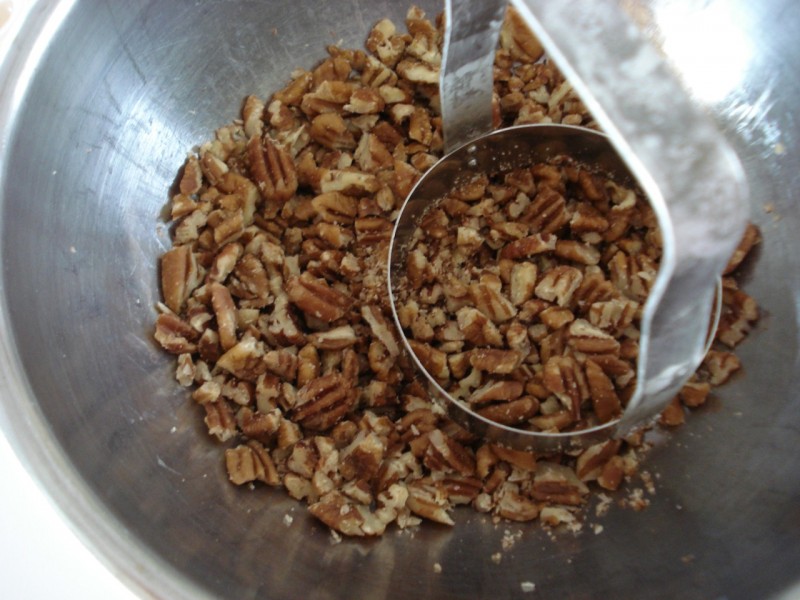 ________________________________________________________________________________
~  If you don't want to bother picking up a sweet dessert wine to make this cranberry sauce, try the following version which uses orange juice:
VERSION 2
1 cup maple sugar (or regular brown sugar)
1/2 cup orange juice
1/2 cup water
12 ounces cranberries, fresh or frozen
pinch of cinnamon (optional)
2 TBSP cognac (optional)
In a small pot over medium heat, dissolve the sugar in orange juice and water.
Stir in the cranberries, and cook until they start to pop (about 10 – 15 mins).
At this point, you can also mash some of them against the side of the pot with the back of a wooden spoon if you'd like.
Remove from heat, stir in cinnamon and cognac (if using).
Transfer to a glass bowl, cover, and refrigerate for approximately 4 hours.
The cranberry sauce will thicken as it cools, so be sure to make this early enough in the day (or the day before) to give it enough time to set in the fridge.
Adapted from: http://allrecipes.com/recipe/cranberry-sauce-i/
I've made this version in the past, and it's good, but we prefer the other recipe up top.