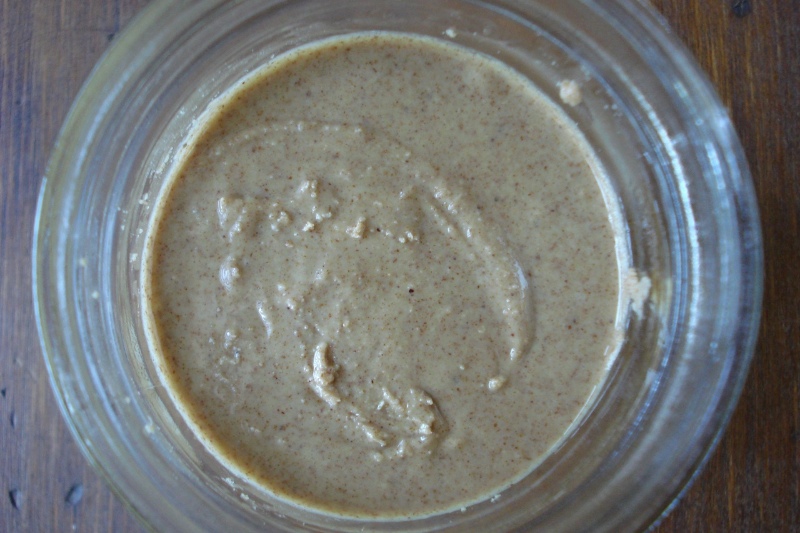 3 cups of almonds
vitamix blender
Pour almonds into vitamix, turn machine on, quickly turn dial to 10 and flip to high-speed.
Use the tamper to continually push the almonds into the blade area as it's running.
Blend until you've got butter. (Takes roughly 2 to 3 mins – Will first turn powdery, then creamy.)
If necessary, see demonstration video posted below….
______________________________________________________________________________________
SIDE NOTES

:

This is the way we like it, but you can add anything you want, such as sea salt, honey, maple syrup, cinnamon, coconut oil….etc.

I make this once a week, usually on monday mornings & feel like wonder-woman as I pack up the kids lunch (even though all I did was dump some almonds in a blender & flip the switch) =)

Try freshly ground almond butter on a sandwich with sliced apples and a sprinkle of cinnamon and/or toasted sesame seeds. So good!

You can of course experiment using any type of nut/seed (or any combination) to make a creamy butter.

 For those avoiding certain foods

, this recipe falls into the following categories:

Dairy Free, Gluten Free, Egg Free, Nut Free, Sugar Free, Vegan, Grain Free, Raw

If on a strictly raw diet – use truly raw, unpasteurized (preferably germinated) nuts and careful that they don't heat up as you're blending.  In my experience, it's very difficult to keep this recipe raw, as the machine has to run so long to create almond butter – all the while heating up the contents as it's running.  It can be done though if you stop the blender often throughout the process so that it doesn't heat up very much.  Good luck!

Hope the following demonstration video is helpful. It was spur of the moment, and I didn't realize until after the fact about the *belly thing* So sorry about that, but I don't have time to re-do things to perfection. I was still wearing my jammy t-shirt & it was quite comfy! For video #2, I'll try to remember to grab a look in the mirror first =)

Please make note:  For safety reasons, it's important to completely remove the blending carafe from the base of your blender before reaching in to scoop out food.  I inadvertently forgot to do this in the video.  You wouldn't want your hand anywhere near the blade in the event of a malfunction or an inadvertent flip of the switch.  This safety rule applies to any type of blender or food processor.  The place my Vitamix normally sits for daily use is on a counter that's higher (than the table in the video) with a cabinet right above it, which makes it impossible for me to dip into without first removing the carafe from the base.  So in daily practice, I always remove the carafe from the base when blending is complete which is what I recommend you do as well.

______________________________________________________________________________________
A FEW EXTRA HINTS on successful almond buttering

:

~ USE SLIGHTLY WARM ALMONDS. This helps to get the right consistency. I've tried it before with almonds straight out of the freezer & it didn't work out. (Too bad it took me about 3 or 4 tries to figure out it was because the almonds were cold – Argh)

~ IF USING PASTEURIZED ALMONDS, you can roast them prior to making into tasty butter by placing them on a cookie sheet for about 10 – 12 mins at 350. Let sit out to cool until they're just warm to the touch before blending. (FYI – Almost all almonds are pasteurized these days – you'd have to go out of your way to get truly raw, unpasteurized almonds – so just assume any almonds you buy at the grocery store or health food store are pasteurized unless clearly stated otherwise.  In fact, even if it says "raw almonds", or "raw almond butter", it's not actually raw unless it uses both words  *raw* & *unpasteurized*).

~ I USE GERMINATED ALMONDS (unpasteurized almonds that were soaked overnight & dehydrated). I won't go into the reasoning behind this now, but feel free to research the topic if interested. In any case, you need a dehydrator to do this at home (mine is an Excalibur), and you need to make sure the almonds are BONE DRY through & through before trying to make into butter – as any hint of moisture will mess things up (Dry at lowest temperature setting for 2 days minimum, and up to 5 days). For those who are interested, but don't want to bother soaking & drying themselves, you can purchase pre-germinated, dried almonds from a few companies online. livingnutz.com is where I go for my nutty needs.  ***MAKE NOTE *** Many people have commented that using germinated almonds is the key to success.  If you can't get this recipe to work using raw or roasted almonds, give it a try with germinated before giving up.

~ If you do use pre-germinated almonds, I don't recommend roasting them before making into butter (lends to a burnt taste that we don't like very much). Warm them up for just a few minutes on the lowest temperature setting in the oven. Or – if you have a dehydrator, heat them up for about 10 mins at 100 degrees, then add directly to blender.

~ As I've mentioned before, these details might be boring to some, but I only share them because I've made many mistakes in the beginning while experimenting, and know how frustrating it can be to waste time, energy, money & end up dumping a pile of dusty paste into the garbage. I hope your first batch comes out perfect! =)

~  If you're looking to purchase truly raw, almond butter, the only 2 brands out there are Artisana & International Harvest.  Unfortunately, you have to be a food detective to know these things, as it's perfectly legal for companies to label almonds "raw" when they're not (after the pasteurization process, they're no longer raw).  What the companies mean by "raw" in this instance is "unroasted", and that would be a more accurate term to use on their labels.  The following companies sell almond butter incorrectly labeled raw…..Marathana, Tree of Life, Once Again, and Woodstock Farms. I don't mean to imply that these brands of almond butter aren't good, or healthy.  I'm just noting that they're not raw, as I think people have the right to know what they're purchasing.

______________________________________________________________________________________
MACHINERY INFO:  
THE VITAMIX
~ I've heard you can use a food processor to make almond butter. I tried this with several batches a few years ago, and just couldn't get the almonds to turn into butter – was more like that powdery paste mentioned above. If you do want to try it with a food processor, you'll have to let the machine run something like 15 or more minutes for a fair chance. Hopefully, you have better luck than me – some people on the internet seem to be able to make it work.
~ YOU DO NOT NEED A VITAMIX for "regular" day-to-day blending. However, if you make any of the following (or would like to), the vitamix is indispensible….
~ Makes nut & seed milks really easily without leaving any pulp to strain (1 – 2 mins)
~ Makes nut butters really easily without the need to add any oil (less than 2 mins for almond butter)
~ Makes ice cream really easily (1 min)
~ Makes fresh, homemade flours really easily (1 min) (need a separate "dry mix" carafe)
~ Makes the most delicious, raw, applesauce (about 1 min)
~ Blends all sorts of small seeds completely smooth into smoothies (can't even detect raspberry seeds)
Maybe if you talked to another vitamix owner, they'd have a different list of things they use it for, but this condensed list is the summary of my love affair with a machine. If you're not intending to make these sorts of recipes, don't buy a vitamix. However, if this type of stuff happens to float your boat – feel free to use my distributor code to receive free shipping when ordering (& I get credit for the referral – thx!). 06-004158