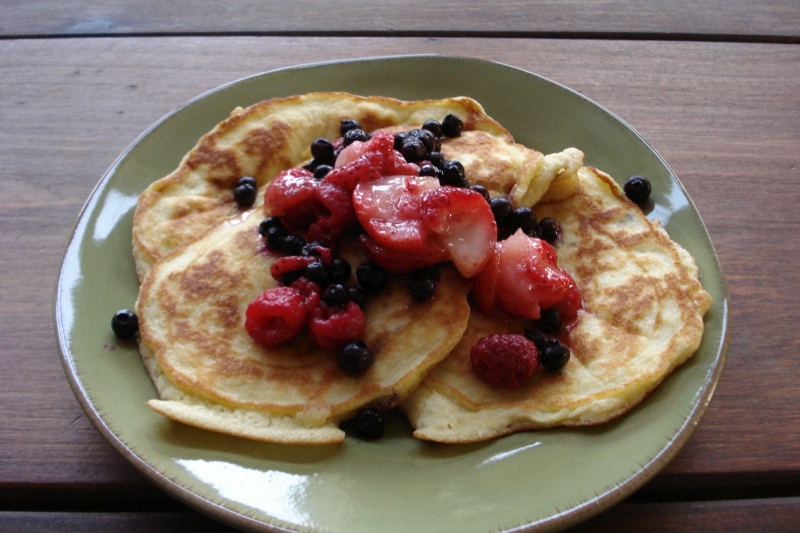 4 eggs
4 TBSP coconut oil (or butter, or ghee), melted
1/2 tsp pure vanilla extract
2/3 cup coconut milk
1/4 tsp pure salt
6 TBSP coconut flour, sifted
1/4 tsp baking powder
organic berries
Mix together eggs, oil, vanilla, coconut milk & salt.
Combine coconut flour w/ baking powder (I put them both into the sifter together), and whisk into wet ingredients until well combined (no lumps).
Spoon batter onto either a dry hot, or lightly oiled skillet (depending on what kind of a pan you're using) & cook for a few mins on each side.
Makes 8 to 10 crepe-like pancakes.
________________________________________________________________________
SIDE NOTES:
~ This is another recipe we have in regular rotation, adapted from "Cooking w/ Coconut Flour." One of the things I like about this book is that you can bake gluten free without having to use a mixture of 3 or 4 different flours to make it work. Makes it simpler/faster to prep, less expensive, and more wholesome!
~ For those sensitive to guar gum (an additive often used in canned coconut milk), or just making an effort to avoid additives as much as possible……I use "Let's Do Organic" brand creamed coconut to make my own coconut milk. It's condensed, whole coconut, & comes in a small 7 oz box. I warm up 14 oz of water (get it hot, but not boiling), turn off heat, and add the entire contents of the box. Let sit for a little while & when the coconut is softened, whisk together. When refrigerating the extra milk, I use a glass mason jar. When ready to use next time, the milk will be separated and somewhat solidified. I simply let the mason jar sit in a bowl of hot water for a few minutes & then shake it or mix it up.
~ I mentioned a long time ago that I despise sifting & just don't do it. However, I have been sifting since I started using coconut flour (has the tendency to be lumpy). Thought I'd mention that I really like the William Sonoma sifter. It's pretty effortless to use, but what I like most about it is that it doesn't have 3 separate layers of mesh that the flour is pushed through (instead – only one). I did not like the 3 layer system in my old sifter, as chunks of flour would get trapped between the layers & were impossible to get out. Who wants old flour lumps in the bottom of the sifter every time they go to use it – yuck.
~ Also, remember to look for ALUMINUM FREE baking powder. Rumford & Bob's Red Mill are 2 brands that I know of. Or, you can easily make your own using 2 TBSP baking soda, 4 TBSP arrowroot flour & 4 TBSP cream of tarter (which is a white powder found w/ the spices @ your regular grocery store). Put ingredients through a sifter 4 or 5 times until thoroughly combined, then store in a small glass jar in a cool, dry space. Again, this is for people allergic to or avoiding additives.
~ It's difficult to get organic berries year round (especially at a decent price). I use organic frozen berries when I can't get fresh, (and in fact sometimes prefer them, as the fresh ones are sometimes already old, mushy & growing mold by the time they appear at the store). If I know I'll be using them with the next day's breakfast, I take out what I need the night before, put them in a small bowl w/ lid & place in refrigerator over night. By morning, they are perfectly thawed. If you're not in a rush in the morning, you can just take them out of the freezer in the a.m. & let sit on the counter for 30 – 60 mins.
For those with various food restrictions
, this recipe falls into the following categories:
Dairy Free, Gluten Free, Nut Free, Sugar Free, Grain Free Vegan, Egg Free, Raw
If eating gluten free, careful with your choice of vanilla.