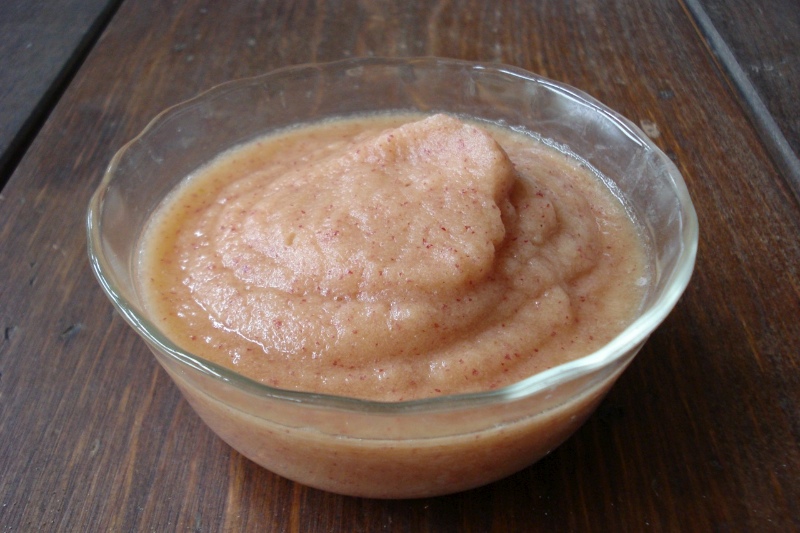 4 apples, peeled & roughly chopped
pinch of cinnamon (optional)
Chop apples (removing seeds & core).
Place in food processor w/ cinnamon & blend until smooth.
If using a Vitamix, no need to peel the apples. (see demonstration video below)
Serves 4.
________________________________________________________________________
SIDE NOTES:
~ Ridiculously quick, easy & amazingly tasty. My kids go NUTS for this. I make it several times a week as part of our breakfast.
~ Use crisp, firm apples, not the softer, mealier types. Our favorite apples to use are BRAEBURN, PINK LADY, GALA, JONAGOLD or FUJI. We think the consistency is a bit too watery if you use red delicious, sunrise, or other soft varieties.
~ The cinnamon, in addition to adding great flavor, helps to kick start your digestion for the day.
~ As mentioned, if using a Vitamix, no need to peel the apples – it pulverizes skin & all. Just use the tamper to push the apples into the blade area. Takes no more than a minute. If using a food processor, you'll need to peel & it won't be quite as quick, but you'll get the same end result. If you're in the market for a vitamix, feel free to use my distributor code to get free shipping 06-004158 which entitles you to free shipping and I get credit for the referral – Thx  🙂
~ We find it's plenty sweet enough as is, but if you'd like it sweeter, try adding a little bit of medjool date. This is what I started doing when I first started making this type of applesauce. I soon found out that depending on the particular apples I was using, it often ended up too sweet.  I kept decreasing the amount of date I used until I wasn't using any. Then it seemed perfect & I wondered why I assumed I would need to add a sweetener to something that was already inherently sweet. Probably a misconception buried deep in my brain due to the way old fashioned, cooked apple sauce is made – w/ lots of sugar!
~ The nice thing about raw applesauce, (besides the amazing taste), is that you need less apples! If you cook it, the apples melt down to nothing & you end up needing many apples for just one small serving. With this method, one large apple is perfect for one serving (yields somewhere between 3/4 to 1 cup of applesauce). If your apples are small, plan on using 2 per person.
~ If you intend to make this often, get yourself one of those apple slicers (that round thing with handles that cores & yields 8 slices with one push). I got a cheap one first (4 or 5 bucks) but it didn't work so well. I recommend a better one like oxo brand ($10) which slices with more ease & is comfortable for my hands. I still need to cut each slice in half or thirds as I put into my blender, but oxo still saves me time.
For those with various food restrictions
, this recipe falls into the following categories:
Dairy Free, Gluten Free, Egg Free, Nut Free, Sugar Free, Grain Free, Vegan, Raw
If you're concerned with keeping your food raw, be sure to use cold apples from the fridge and don't over blend (the blades of the Vitamix will eventually heat up the applesauce if you let it run too long).