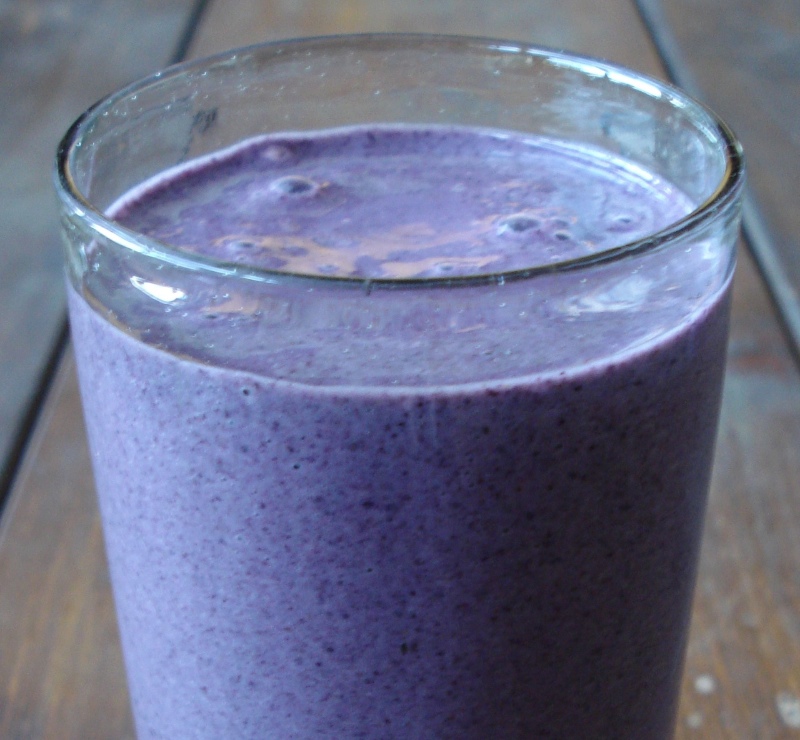 To make a smoothie, you can really toss in whatever sounds good to you in whatever amounts you want, but here's one version we like in case you'd like a starting point:
10 oz almond milk
1 banana
1 heaping cup of another fruit
1 TBSP seed mixture, ground (see notes)
Yields approx 20 oz – 1 adult serving.
________________________________________________________________________
SIDE NOTES:
~ If you'd like to make your own almond milk, click HERE for recipe.
~ For the "other" fruit, I alternate between blueberries, strawberries, raspberries, peaches and pineapple. Toss in any fruit you're in the mood for!
~ SEED MIXTURE……Get a large mason type jar & fill it up halfway with flax seeds. Then fill it up the rest of the way with equal parts of sesame, sunflower & pumpkin seeds. Mix it up. The average blender will not be able to grind up the smaller seeds, so you'll need to buy a coffee grinder (designated solely to seeds). Each morning, only grind up the amount needed for your smoothie. The problem with grinding a whole bunch of it in advance is that once ground, it will go rancid quickly. Cuisinart sells a coffee grinder with removable parts that are dishwasher safe. Alternately, if you're making this smoothie in a Vitamix, no need to grind up the seeds before adding. Just dump them in with everything else & the vitamix will grind them to perfection. If you're in the market for a vitamix, feel free to use my distributor code to receive free shipping 06-004158 (and I receive credit for the referral – Thx!).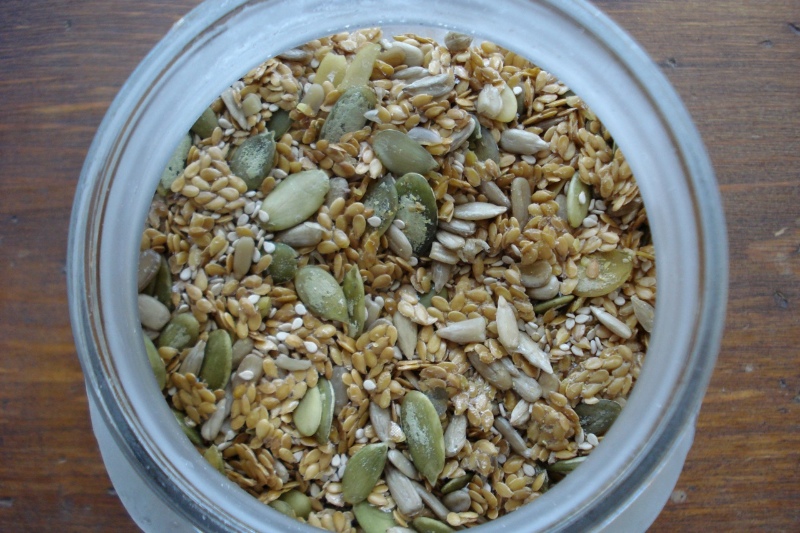 ~ I use frozen organic fruits (berries/peaches/pineapple…). However, I don't like my smoothie ice cold, so as soon as I wake up, I put the amount of fruit I'll be using in a bowl & let it sit out @ room temp for 30 – 60 mins. Alternately, you can put your portion of frozen fruit in a container in the fridge the night before, this way, if you need to eat as soon as you get up, it's defrosted & ready for use. Of course, you can also just use the fruit right out of the freezer. The things to consider though, even if you don't mind a very cold smoothie in the morning is that… 1 – rock hard fruit is hard on your blender, 2 – ice cold things are hard on your digestive system & 3 – letting the fruit defrost a bit will bring it *back to life*
~ Tupperware makes cups with lids that I used when the kids were young. You only have to spill a full glass of blueberry smoothie on the carpet once to have these cups overnighted to your door! And when the kids were younger, I use slightly different amounts – 12 oz almond milk, 2 small bananas, heaping 1/2 cup frozen fruit, 2 TBSP seeds. This is enough for 2 kids. Basically, I came up with these ratios because it fits perfectly in two 12 ounce tupperware cups. Experiment & do what works for you!
 For those avoiding certain foods

, this recipe falls into the following categories:

Dairy Free, Gluten Free, Egg Free, Nut Free, Sugar Free, Vegan, Grain Free, Raw

Keep in mind, if eating raw, you'll need to use your own, home-made, almond milk made specifically from raw, unpasteurized almonds (which are not easy to come by these days unless you're very intentional with your purchases).