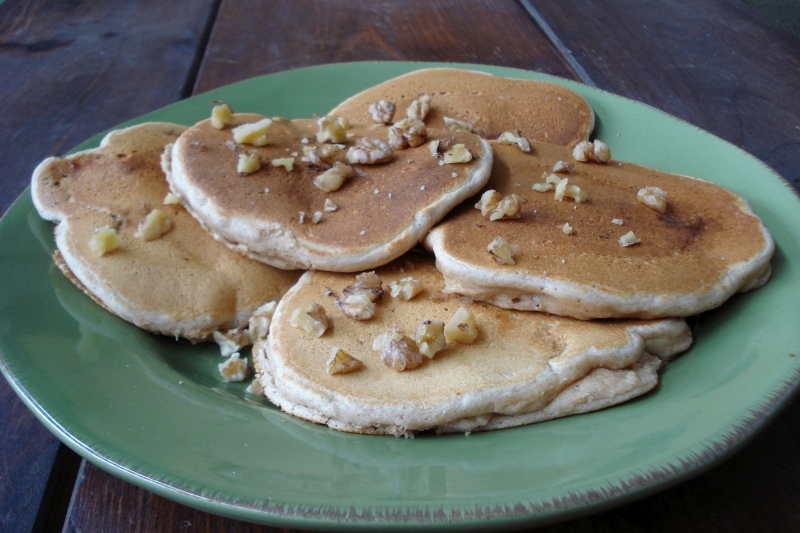 1 cup whole-wheat pastry flour
1 TBSP aluminum-free baking powder
1/4 tsp cinnamon
1/8 tsp nutmeg
1/8 tsp pure salt
1 cup + 1 TBSP milk of choice
1 TBSP melted butter, ghee, or coconut oil
1 medium-large ripe banana, sliced into rounds
chopped walnuts (optional)
In a large bowl, add the dry ingredients and whisk to combine well.
In a small bowl, combine the milk and melted butter (or oil), & stir through.
Add the wet mixture to the dry & stir just until well combined, adding the banana slices as it comes together.
Cook pancakes on either a lightly oiled, or dry skillet – depending on what type of pan you use.
________________________________________________________________________
SIDE NOTES:
~ Adapted from "Vive le Vegan"
~ Make sure your banana is ripe enough (speckled).
~ If you can get Grade B pure maple syrup, this will have nutrients that have been cooked out of the Grade A. Better still – As an alternative to maple syrup, try topping with Artisana's Coconut Butter. It's expensive, but absolutely to die for (if you like coconut of course), and it's a raw, whole food as opposed to a condensed sweetener. Of course, a topping of sliced fruit, or pureed fruit works well too.
~ Double this recipe to serve a family of 4.
For those with various food restrictions
, this recipe falls into the following categories:
Dairy Free, Nut Free, Egg Free, Sugar Free, Vegan Gluten Free, Grain Free, Raw
If eating dairy free, use coconut milk or other non-dairy option and coconut oil instead of butter.  Omit the walnuts if avoiding nuts (can substitute berries).  If eating sugar free, make sure you're using "unsweetened" milk (vanilla flavored milks contain sugar), and top with berries or sliced banana instead of syrup.