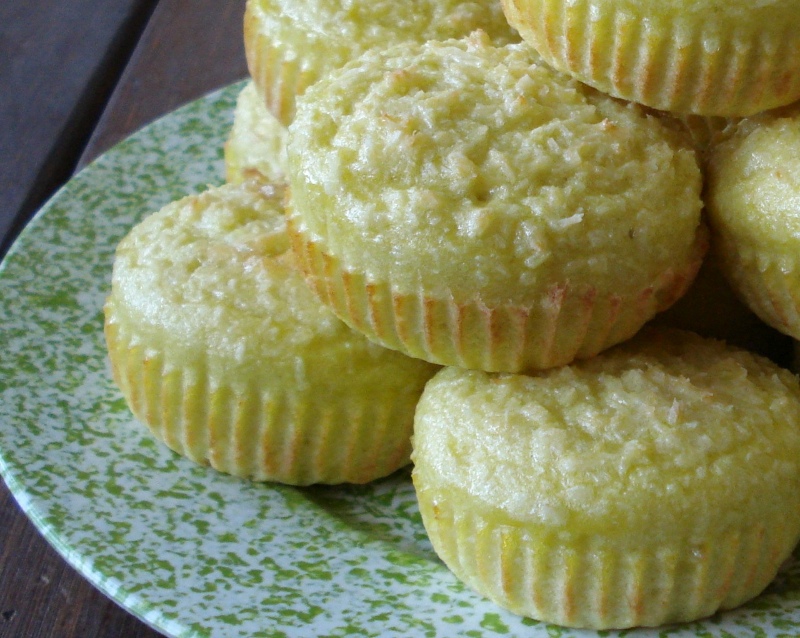 6 eggs
1/2 cup coconut milk (regular, not "lite")
2 TBSP natural sugar, or 1/2 tsp liquid stevia**
1/2 tsp pure salt
1/2 cup coconut flour, sifted
1/2 tsp baking powder
1/2 cup (more or less) unsweetened shredded coconut
Preheat oven to 400 degrees.
Mix together eggs, coconut milk, sugar (or stevia), and salt.
Combine coconut flour with baking powder & whisk into batter until there are no lumps (batter may be on the thin side – this is ok).
Pour batter into 12 greased muffin cups (or simply line the cups with unbleached muffin paper).
Sprinkle shredded coconut on top of each muffin.
Bake for 15 mins.
______________________________________________________________________________________
SIDE NOTES

:

~ These have become once a weekers for school snack over the past 6 months. Of course, if you're not a coconut fan – don't bother! Bruce Fife, author of "Cooking with Coconut Flour" calls them coconut milk muffins, but to us, they're really a cross between a muffin & a macaroon, so I was compelled to rename them. Whatever you call them, they're delicious – very light, fluffy & tasty (& ridiculously easy to make). They may not look like they're done after 15 mins, but they are (they're lighter in color than other muffins). Take them out of the muffin tray & cool on cooling rack. I store them in the freezer & just pull out as needed.

For those with various food restrictions

, this recipe falls into the following categories:

Dairy Free, Gluten Free, Egg Free, Nut Free, Sugar Free, Grain Free, Vegan, Raw

If eating sugar free use stevia.

~ Did you know that coconut flour is THEEE highest fiber flour you can eat. People mostly think of products like wheat bran and oat bran when thinking fiber. Coconut flour has more than double the fiber of either (coconut = 61%, wheat bran = 27%, oat bran = 16%). It's also gluten free, much easier to digest than grain based flours, very low carb, and an additional plus is that unlike wheat/oat bran, coconut flour does not taste like saw dust. It's good! Look for high quality, organic coconut products for the best health attributes.