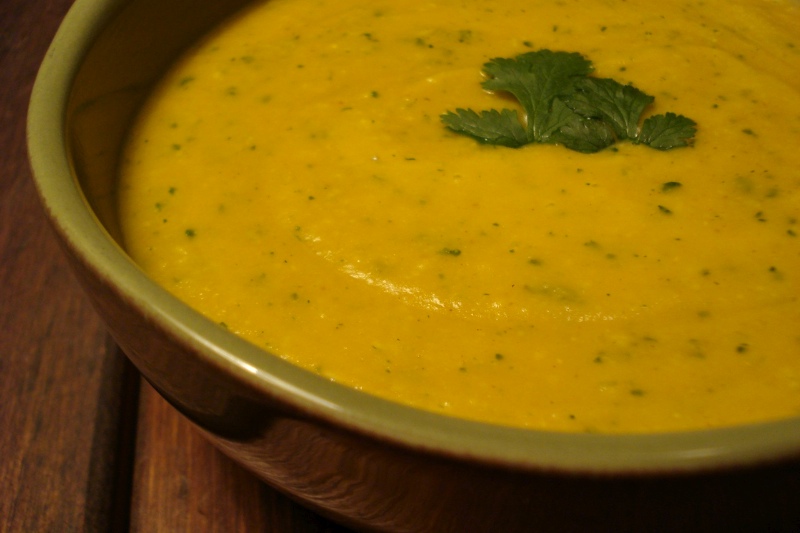 2 TBSP coconut oil
1 large onion, chopped (about 2 cups)
3 medium carrots, chopped
4 cups water
14 ounces coconut milk
1 cup red lentils
3 cloves garlic, chopped
1 bay leaf
2 tsps pure salt
1/4 tsp ground ginger
1 TBSP curry powder
1/2 cup chopped cilantro
Heat coconut oil in a large saucepan over medium heat.
Add onions and carrots & cook, stirring frequently, until vegetables start to brown, about 10 mins.
Add water, coconut milk, lentils, garlic, bay leaf, salt, ginger & curry powder.
Cover & bring to a boil.
Reduce heat, & simmer, partially covered for 35 to 40 mins or until lentils are tender, stirring occasionally.
Remove bay leaf & discard.
Add cilantro.
Optional:
Puree with a stick blender** (or puree in batches in a regular blender).
______________________________________________________________________________________
SIDE NOTES

:

~  Very easy & tasty soup from "Coconut Lover's Cookbook"

** We've found that we like the soup even better if we don't puree it. (The only one I puree it for is my daughter who doesn't like the feel of onions in her mouth.)

 For those avoiding certain foods

, this recipe falls into the following categories:

Dairy Free, Gluten Free, Egg Free, Nut Free, Sugar Free, Grain Free, Vegan, Raw