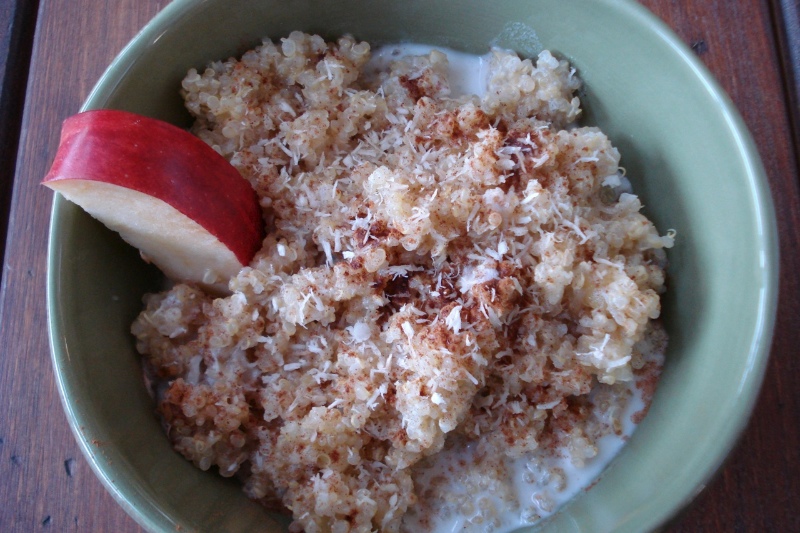 1 cup quinoa
2 cups water
pure salt (about 1/2 tsp)
1/2 cup of either chopped apples/pears/dates/almonds/raisins (optional)
milk of choice
drizzle of maple syrup (or mix in a few drops of liquid stevia)
sprinkle of cinnamon
a few pinches of toasted, shredded, (unsweetened) coconut
Rinse quinoa in a fine mesh strainer & drain.
Place the quinoa in a saucepan over high heat, add the water & salt & bring to a boil.
Reduce heat & simmer covered for 5 mins.
Add whatever fruit you desire, & continue to simmer until all the water is absorbed (15 mins, give or take a few).
Add milk, cinnamon, toasted coconut shreds & a drizzle of maple syrup.
________________________________________________________________________
SIDE NOTES:
~ From "Grains for Better Health"
~ We like this with chopped apples (I remove the skin & chop into very small pieces)
~ I keep shredded coconut in a mason jar in the freezer. To toast, just put some in a dry skillet & toast for a few minutes over medium-low heat. The coconut may seem like a garnish, but it's the favorite ingredient for all 4 of us. I don't recommend skipping it!!
 For those with various food restrictions

, this recipe falls into the following categories:

Dairy Free, Gluten Free, Egg Free, Nut Free, Sugar Free, Vegan, Grain Free, Raw

If eating dairy free, use coconut milk or other non-dairy option.  If avoiding sugar, use stevia instead of maple syrup.