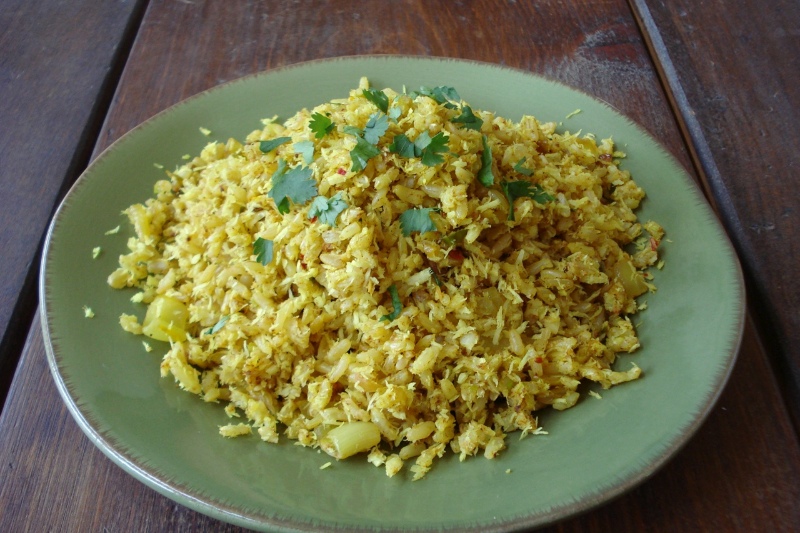 2 TBSP coconut oil, butter or ghee
1 onion, minced
3 garlic cloves, minced
4 scallions minced
1 TBSP grated fresh ginger
1 tsp ground turmeric
1 tsp ground cinnamon
1/2 (or 1/4) tsp crushed red pepper flakes
1 tsp dry mustard
1/4 tsp ground cloves
1 TBSP natural sugar (or 6 drops liquid stevia)
4 cups cooked long-grain brown rice
1 cup shredded coconut (unsweetened)
pure salt & freshly ground pepper to taste
Cook the rice according to package directions.
Heat the oil in a large skillet over medium heat, add the onion & garlic & cook until softened, about 5 mins.
Add the scallions, ginger, turmeric, cinnamon, red pepper flakes, mustard, cloves, sweetener, & cook, stirring constantly for 2 mins.
Add the rice & stir to mix evenly.
Gently stir in the coconut.
Season to taste with salt & pepper & heat until hot (if you're using rice you just cooked, it will already be hot).
Cover & set aside for 5 mins before serving.
______________________________________________________________________________________
SIDE NOTES

:

~ Adapted from "Vegan Fire & Spice"

~ This is really easy to make, just be sure to start your rice about an hour before you want to eat. If you have a food processor with a chopping blade, you can throw in the onion, garlic & scallions if you don't feel like chopping by hand.

~ It might seem silly to measure out the rice after it's cooked to ensure adding just the right amount, but keep in mind that if you add too much rice, all the other flavors will become diluted. I sometimes dump instead of measuring, but it's just something to keep in mind if it seems you've made a lot more than you need.

~ I used 1/4 tsp red pepper flakes & added some cilantro over the top.

 For those with various food restrictions

, this recipe falls into the following categories:

Dairy Free, Gluten Free, Egg Free, Nut Free, Sugar Free, Grain Free, Vegan, Raw

If eating sugar free, use stevia or lakanto instead of sugar.

~ The kids didn't like this the first night I made it. It was strange though that the very next day, when Al & I were eating the leftovers, they tasted it again, loved it & both devoured giant bowls of it. I know different flavor combinations sometimes take time to get used to, but it was weird for them to go from one extreme to the next in less than 24 hours.