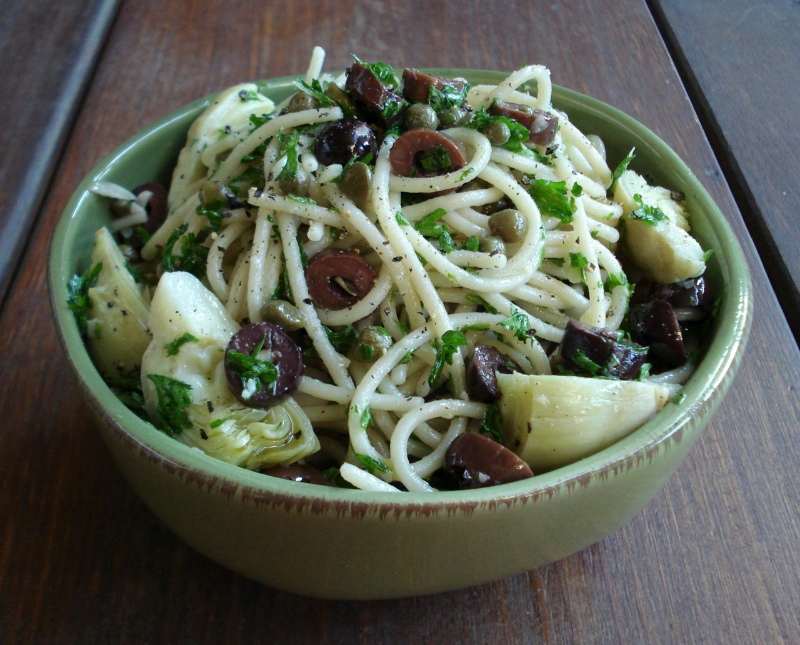 12 oz whole grain spaghetti
1/2 cup extra virgin olive oil
2 garlic cloves finely chopped
2 TBSP capers, rinsed & drained
12 kalamata olives, pitted & chopped
1 & 1/2 TBSP lemon juice
1/2 cup chopped parsley
artichoke hearts (plain – not marinated)
freshly ground black pepper
Prep parsley, garlic & olives.
Cook pasta in salted water until al dente.
In the mean time, gently heat the oil in a small saucepan.
Add the garlic & cook for 1 min.
Add the capers, olives & lemon juice, cook 1 minute longer & set aside.
When the pasta is cooked, drain & return it to the same, warm pot.
Add the olive oil mixture, parsley, black pepper & toss well to coat.
______________________________________________________________________________________
SIDE NOTES

:

~ Adapted from "Easy Vegetarian"

~ If you have one, use your small food processor to chop the garlic. Once you add the garlic to the oil, then you can use the processor to chop the parsley.

~ You can get kalamatas pitted, but be careful not to break a tooth, as every so often one slips through the cracks w/ pit intact. For this recipe, you're chopping them by hand which is a good way to check for pits anyway. Our favorite brand of olives is "Mediterranean Organics." Another good one, especially if you're avoiding yeast is "Delallo" organic jumbo kalamatas in brine.

~ Artichoke hearts are my addition & go extremely well with this dish. Cut into quarters & toss 'em in.

~ Double the recipe to feed a family of 4 generously. Tinkyada brown rice spaghetti comes in 12 oz bags so its easy. We find the pasta needs a little rinsing for this one, but rice pasta is starchier than wheat so do what works for you depending on what kind you use.

 For those with various food restrictions

, this recipe falls into the following categories:

Dairy Free, Gluten Free, Egg Free, Nut Free, Sugar Free, Grain Free, Vegan, Raw

If eating gluten and/or sugar free, use an appropriate pasta (brown rice pasta is our personal preference), and double check labels of any packaged products such as olives, capers, and artichoke hearts.