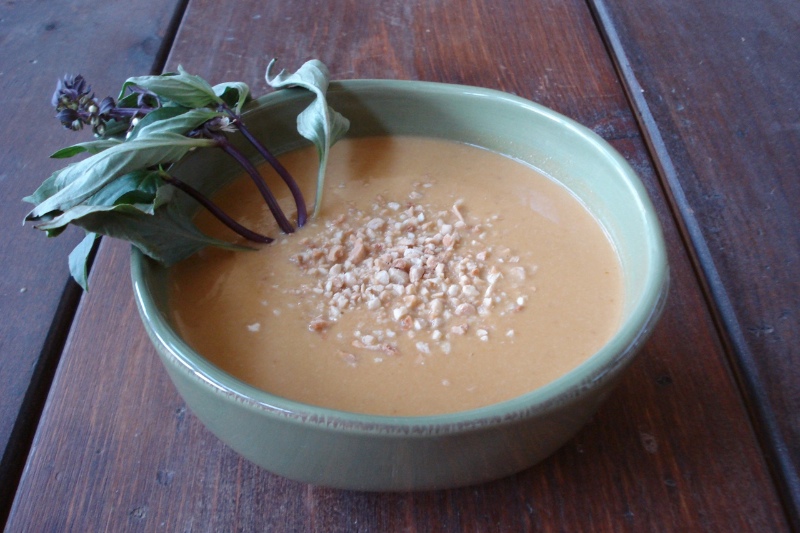 1 TBSP coconut oil
1 small onion, chopped
1 TBSP chopped fresh ginger
(up to) 3 hot dried Thai chiles – split lengthwise, or 1/2 tsp crushed red pepper flakes
2 tsp minced fresh lemongrass – white part only, or zest of 1 lemon
3 cups veggie or chicken broth
3 TBSP tamari/soy sauce
1 (16 oz) can pumpkin puree
1 (14 oz) can unsweetened coconut milk
1/3 cup creamy, natural, peanut butter
1 TBSP maple sugar, (or sugar of choice**)
1/2 tsp pure salt
2 TBSP lime juice
1/4 cup chopped fresh Thai basil or cilantro
2 TBSP crushed roasted peanuts
Heat the oil in saucepan over medium heat.
Add the onion, ginger, & chiles & cook until softened, about 3 mins.
Stir in the lemongrass, broth & soy sauce & bring to a boil
Reduce heat & simmer for 10 mins.
Strain the broth into another pot, discard the solids & place the pot on the stove over low heat.
Whisk in the pumpkin, coconut milk, peanut butter, sugar & salt.
Cook stirring, until smooth & hot, about 10 mins. Do not boil.
Stir in the lime juice, taste, & adjust the seasonings if need be.
Serve hot, garnished with basil (or cilantro) & peanuts.
______________________________________________________________________________________
SIDE NOTES

:

~ From "Vegan Fire & Spice"

~ Yields 4 bowls. You might be sorry if you don't double the recipe. (We were the first time we made it!)

~ If you're not sure how many dried chilies to use, start with 1/2 of one the first time you make it, then keep increasing each time to find the level of heat you like best. Luckily for us, we've got a great, local Asian market, so can get dried Thai chiles, lemongrass & Thai basil. If you can't, the substitutions should work just fine. (FYI – Lemongrass can be purchased in its natural state – a long, thin, green stalk, or pre-minced in a container in the refrigerator or freezer section. Thai basil has pretty purple stems, green leaves & sometimes little white flowers. Also, dried Thai chiles come in 2 sizes – use the small size, which are only about 2 inches long & skinny. You should be able to buy them in a bulk bag & keep them on hand in the pantry.)

~ The author states that the flavor of the soup improves when reheated several hours after it's made. We wouldn't know, as it disappears very soon after it's made!

 For those avoiding certain foods

, this recipe falls into the following categories:

Dairy Free, Gluten Free, Egg Free, Nut Free, Sugar Free, Grain Free, Vegan, Raw

If eating gluten free, be sure to choose a gluten free tamari.  If avoiding sugar, substitute about 6 drops of liquid stevia.  If avoiding nuts, you can try using sunbutter in place of the peanut butter and omit the peanuts (or substitute sunflower seeds).