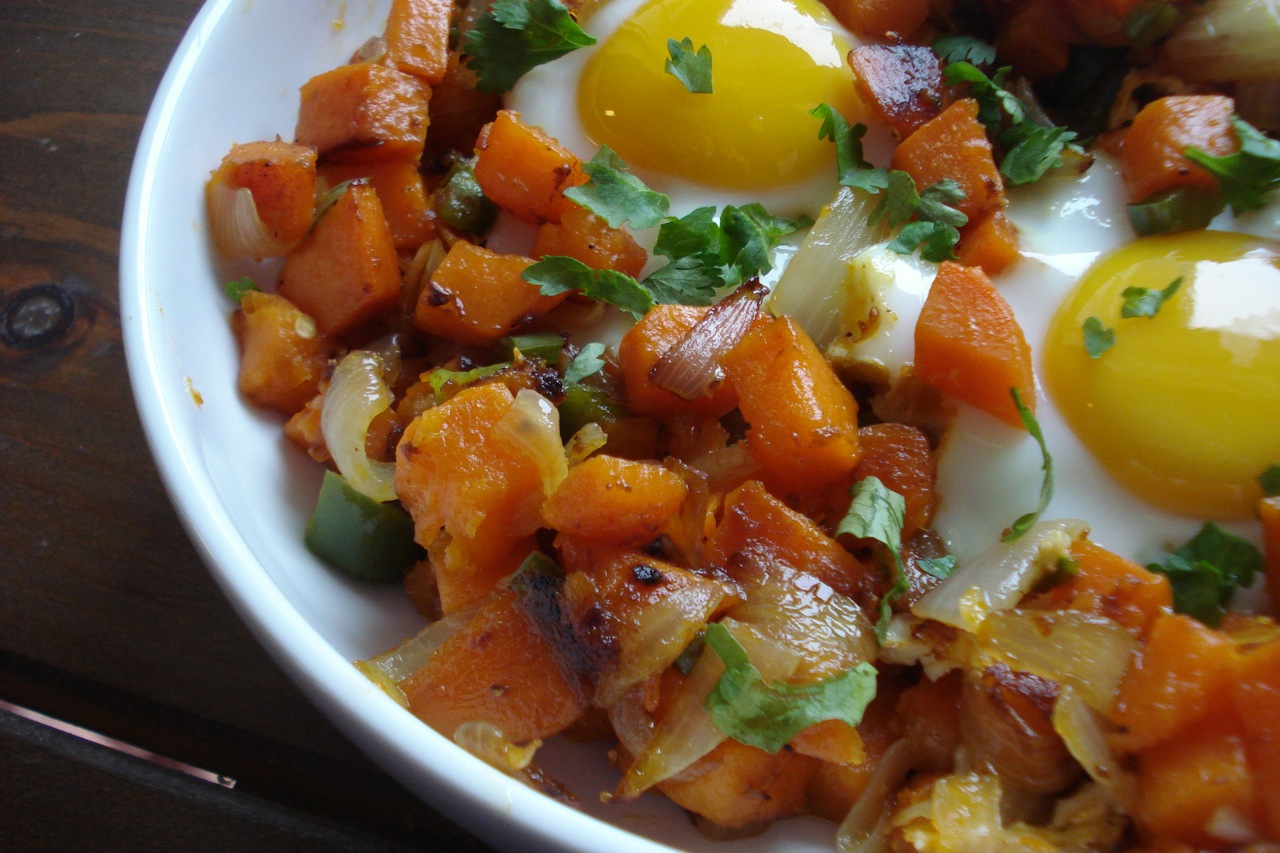 3 TBSP coconut oil (or oil of preference)
2 large sweet potatoes, peeled & cut into small dice (about 3 cups)
1 onion, chopped (between 1 and 1.5 cups)
1 garlic clove, minced
1 jalapeno pepper, minced (with seeds) (less if you like it milder)
4 eggs
pure salt to taste
freshly ground black pepper (optional)
minced cilantro (optional)
Preheat oven to 400.
Heat oil in a large oven-proof skillet over medium heat.
Add potatoes & onions & cook about 10 mins (or until potatoes are tender & cooked to your liking).
Add garlic, jalapeno, a few shakes of salt, & cook just 1 to 2 minutes longer.
Break eggs directly over potatoes (but not on top of one another). Place pan in the oven and bake 10 – 12 minutes.
Remove, and garnish with black pepper & cilantro if using.
Yields 2 generous servings.
________________________________________________________________________
SIDE NOTES:
~ This is a family favorite, and my son actually ranks it higher than pizza. It's his absolute favorite, # 1 meal.
~ Some jalapenos are spicier than others. You can have a big one that's surprisingly mild, or a tiny one that looks so cute & innocent, but ends up being killer. Once you start chopping it, take notice if your eyes or nostrils start to burn from the aroma – indicating it's a hot one! Then add as much as you want according to your taste preference.
~ Most stainless steel skillets are oven-proof, provided the handle is also stainless, but check with the manufacturer to be sure.
~ Be very careful after taking the skillet out of the oven. Of course, it's common sense to use an oven mitt when removing anything from the oven. BUT…..once you place it on the stove top, don't forget that the handle is scorching hot. Even though I tried to remind myself, I burnt my hand several times (at least the first 3 times I made this). It's easy to place the hot skillet on the stove, carefully with an oven mitt, then remove the oven mitt, turn to do something else, come back to the pan to scoop the potato mixture onto plates, forget the handle is practically on fire, and grab it for leverage as you scoop (ouch). I recommend that you immediately drape a kitchen towel over the handle, or slide the oven mitt itself over the handle. I picked up one of these handy-dandy little things specifically for this purpose – http://www.amazon.com/Lodge-Temp-Handle-Mitt-Black/dp/B00063RWG6/ref=sr_1_1?ie=UTF8&s=home-garden&qid=1271514603&sr=8-1
For those with various food restrictions
, this recipe falls into the following categories:
Dairy Free, Gluten Free, Nut Free, Sugar Free, Grain Free, Vegan, Egg Free, Raw