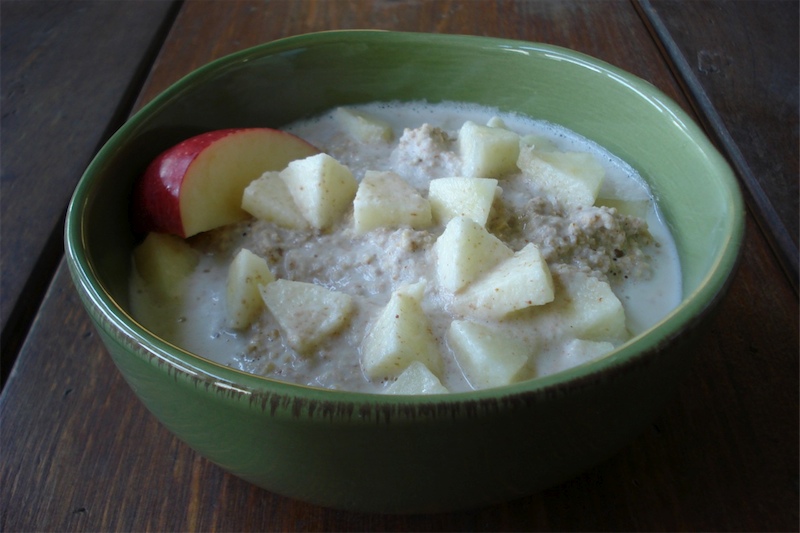 1 & 1/2 cups whole oat groats or steel cut oats, soaked
1/2 apple, peeled & chopped
2 TBSP pure maple syrup (or liquid stevia to taste)
2 TBSP water
1/2 tsp cinnamon
1/2 tsp pure vanilla extract
1/4 tsp pure salt
1/2 cup milk of choice
extra chopped apple (optional)
raisins (optional)
Soak oats in water overnight (8 – 12 hours).
In the morning, drain oats & add the first 7 ingredients to a food processor (down to & including the salt).
Process until smooth (or smooth-ish), stopping occasionally to scrape down the sides of work bowl.
Serve with milk, extra chopped apple & raisins if using.
Serves 3.
________________________________________________________________________
SIDE NOTES:
~ Adapted from "Raw Food Made Easy."
~ This is like apple pie for breakfast! So easy & good.
~  FYI – most oats are not raw, as they're either toasted, roasted, and/or steamed after harvest to extend shelf life. That said, they're still quite nutritious with lots of fiber, vitamins, and minerals. However, if you prefer truly raw oats, here are 3 sources I know of: www.cayugapureorganics.com/oatgroats
www.sproutpeople.org/seeds/oats
www.sprouthouse.com/Oat_Groats_RAW
~  If using whole oat groats (as opposed to steel cut), you may need a double soak if the consistency turns out too chewy for you (the groats may need more soak time to soften enough for your taste preference).  In this case, soak for 8 – 12 hours, drain, add fresh water & soak for an additional 8 – 12 hours.  For instance, if you're planning to have this on Sunday morning, place the groats in water anywhere between 8 am & noon on Saturday.  At about 8 pm Saturday night, drain, add fresh water & let soak overnight.  In the morning, drain & continue w/ the recipe.
~ Use about double or triple the amount of water (compared to oats). You'll need one of those fine mesh strainers to drain the oats or they'll slip through the holes in a regular colander.
~ If using liquid stevia, don't combine it with the other ingredients. Once you serve the oatmeal, each individual can stir in as many drops as they want (about 6 drops per serving should do it).
For those with various food restrictions
, this recipe falls into the following categories:
Dairy Free, Gluten Free, Egg Free, Nut Free, Sugar Free, Vegan, Raw, Grain Free 
If eating dairy free, use coconut milk or another non-dairy option. If eating gluten free, use certified gluten free oats and choose your vanilla carefully.  If eating strictly raw, be sure to use truly raw oat groats, whole vanilla bean, some type of raw milk, and raw honey instead of maple syrup.  If avoiding sugar, use stevia or lakanto as the sweetener.