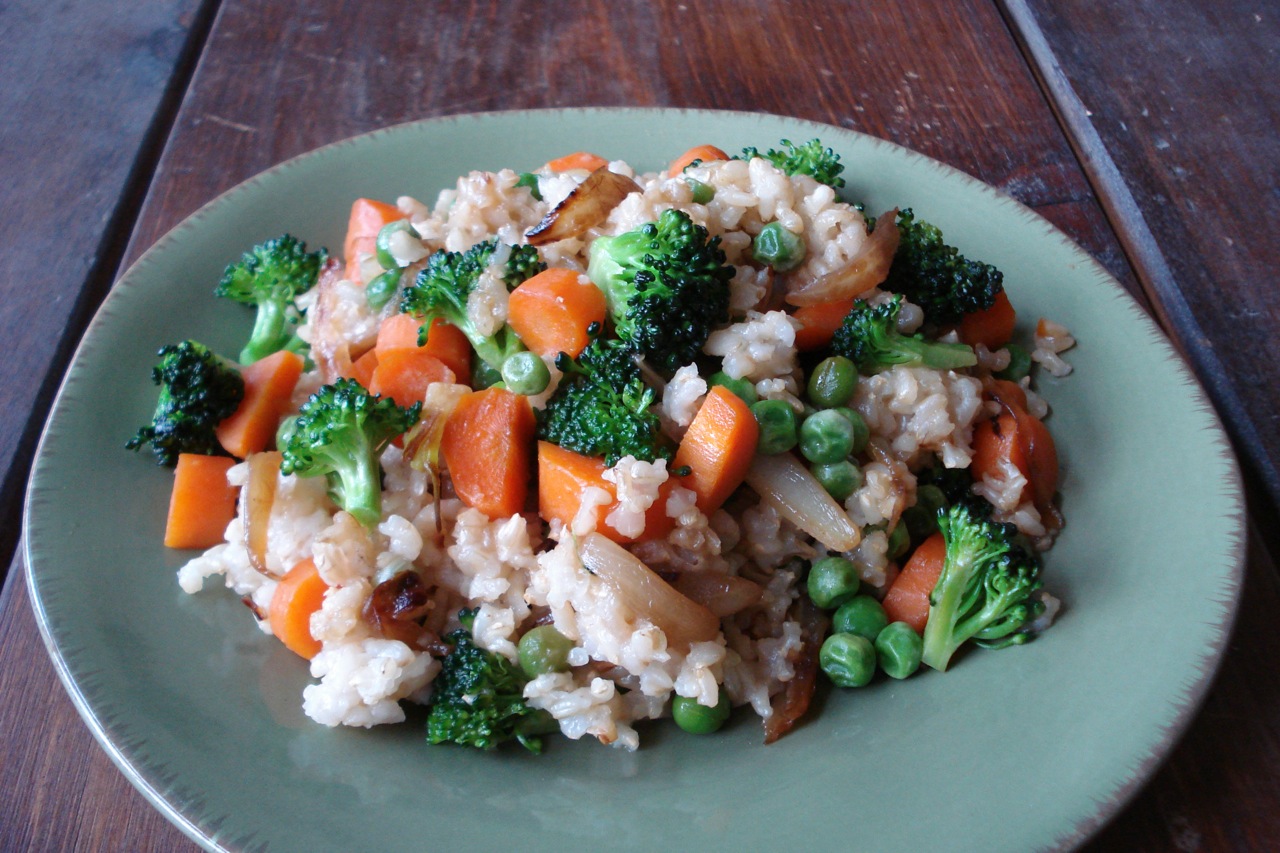 coconut oil, butter, or ghee
1 medium onion, diced
3 medium carrots, diced
3/4 cup frozen peas (if you think of it ahead of time, let them thaw)
1 small head of broccoli, chopped into small florets
2 cups cooked brown rice
2 TBSP tamari/soy sauce
a few scrambled eggs, coarsely chopped (optional)
pure salt & pepper to taste
If not using left over rice, get that going first (1 cup dry makes 2 cups cooked).
Heat oil in a large skillet & saute onions a few mins until softened.
Add carrots & cook another few mins until softened.
Add broccoli and saute a few mins more.
Finally, add peas and tamari & cook until peas are heated through (will take a few mins longer if they're straight out of the freezer).
Meanwhile, scramble a few eggs in a separate skillet if using.
Stir in cooked rice (and chopped egg if using), and season with salt & pepper.
______________________________________________________________________________________
SIDE NOTES

:

~ This is a great way to use up left-over rice. Even though fried rice is commonly served as a side dish at Chinese restaurants, we find it perfectly acceptable (and delicious/easy) as a one dish meal. You've got whole grain, veggies, legume, and egg. Works for us.

~ If you're missing one of the veggies, that's fine – just use whatever you have in the fridge.

 For those with various food restrictions

, this recipe falls into the following categories:

Dairy Free, Gluten Free, Egg Free, Nut Free, Sugar Free, Grain Free, Vegan, Raw

If eating gluten free, be sure to use a gluten free tamari.  Of course, omit the egg if necessary.