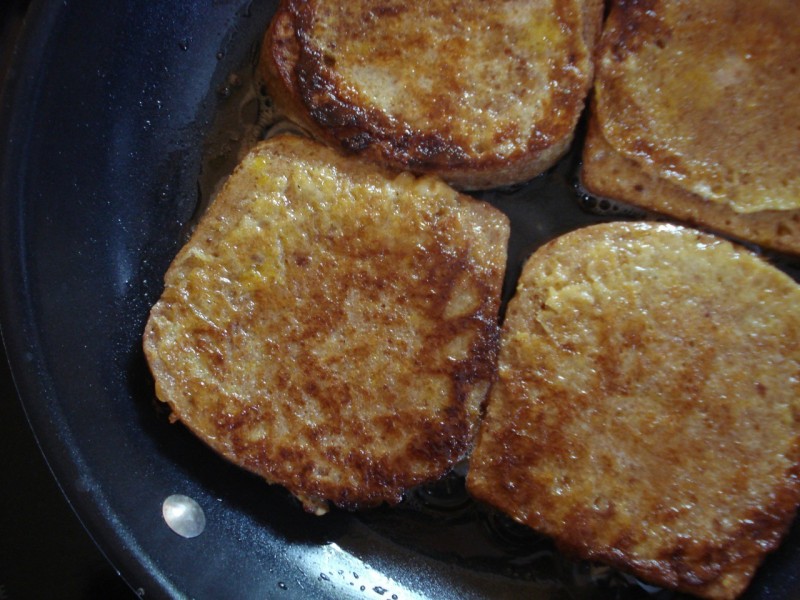 2 pastured eggs
1/4 cup milk of choice (optional)
1 tsp pure vanilla extract
1/4 tsp pure salt
1/2 tsp cinnamon
1 TBSP natural sugar (optional)
2 TBSP butter, ghee, or coconut oil
approx 6 slices high quality bread (give or take depending on how big the bread is)
Heat a large skillet over medium heat for 5 mins.
Meanwhile, beat egg lightly in shallow bowl.
Whisk in milk (if using), vanilla, sugar (if using), salt & cinnamon, continuing to whisk until smooth.
Swirl 1 TBSP butter (or oil) in hot skillet.
Soak each slice of bread, one at a time, until each is saturated.
Transfer prepared bread to skillet & cook on both sides until golden.
Add more butter to skillet for each new batch.
________________________________________________________________________
SIDE NOTES

:

~  Of course, if you end up with extra batter, don't dump it.  Simply make a small side of scrambled eggs, right in the same pan.

For those with various food restrictions

, this recipe falls into the following categories:

Dairy Free, Gluten Free, Nut Free, Sugar Free, Vegan, Egg Free, Grain Free, Raw

Can use a gluten free bread, flour, and vanilla if avoiding gluten.  If eating dairy free, omit milk or use coconut milk and coconut oil instead of butter.  If avoiding sugar, simply omit it or substitute stevia (about 12 drops)