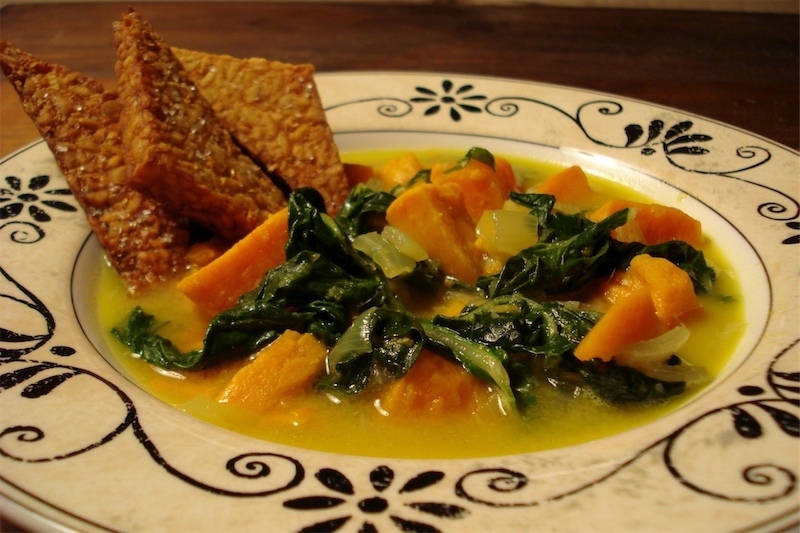 2 TBSP coconut oil (or oil of preference)
2 cups diced onion (about 2 medium onions)
2 tsps pure salt (plus additional to taste)
4 cups 1-inch sweet potato chunks (about 2 large sweet potatoes)
3 garlic cloves, finely chopped
1 small jalapeno pepper with seeds, minced (optional)
1 TBSP minced fresh ginger
1 tsp ground coriander
1/2 tsp turmeric
1 (14 oz) can coconut milk
1 small bunch of collard greens, chard, or kale, chopped into long strips
1 lime, cut into wedges (optional)
1/2 cup chopped cilantro, for garnish (optional)
In a large saucepan over medium heat, warm the oil.
Add the onion & a pinch of salt & saute until softened, 3 – 4 mins.
Add the sweet potato, garlic, jalapeno, ginger, coriander & turmeric, & saute for 2 mins.
Add 2 cups of water, the coconut milk, 2 tsps of salt, raise the heat & bring to boil.
Reduce the heat & simmer, covered for 15 mins.
Add the greens & simmer, uncovered, until tender, about 10 mins.
Ladle soup into bowls, squeeze lime over all & sprinkle w/ cilantro.
Serve w/ crispy tempeh if desired.
Crispy Tempeh Strips
2 (8 oz) packages of tempeh cut into triangles
coconut oil
pure salt
In large saute pan over medium heat, warm the oil until hot but not smoking.
Fry the tempeh in batches (don't crowd the pan) until golden brown, about 3 – 4 mins on each side.
Drain on paper towels & sprinkle w/ salt.
______________________________________________________________________________________
SIDE NOTES

:

~ Adapted from "Fresh Food Fast"

~ To chop the greens…..Cut the leaves in half, length-wise along the stem. In fact, you can cut the stem out completely (I make two long cuts on each side of the stem) as it's sometimes hard to chew. Discard the stem & then cut across into approx 1/4 inch wide strips.

~ To cup the tempeh…..Cut in half across the belly (right through the packaging) and gently nudge each half out of the wrapping. Then stand each half on its side & cut in half again (to make the tempeh thinner). Then, cut diagonally. (Actually, I think I cut into triangles first & then slice each triangle in half to make thinner…..whatever's easier for you). In the end, you'll have 16 triangles per package.

~ Sprinkle the salt as soon as the tempeh comes out of the pan (the salt will absorb & stick better).

~ As far as the oil goes, you can either put enough oil in the pan to completely cover the tempeh (like deep frying) or just coat the bottom of the pan & flip when ready. (I do the flip method as I hate to use/waste so much oil).

 For those avoiding certain foods

, this recipe falls into the following categories:

Dairy Free, Gluten Free, Egg Free, Nut Free, Sugar Free, Grain Free, Vegan, Raw

If eating gluten free, be sure to use "soy" tempeh and not "three grain" or "flax" as I believe they both contain gluten (and be sure to check labels on any canned goods – such as coconut milk).