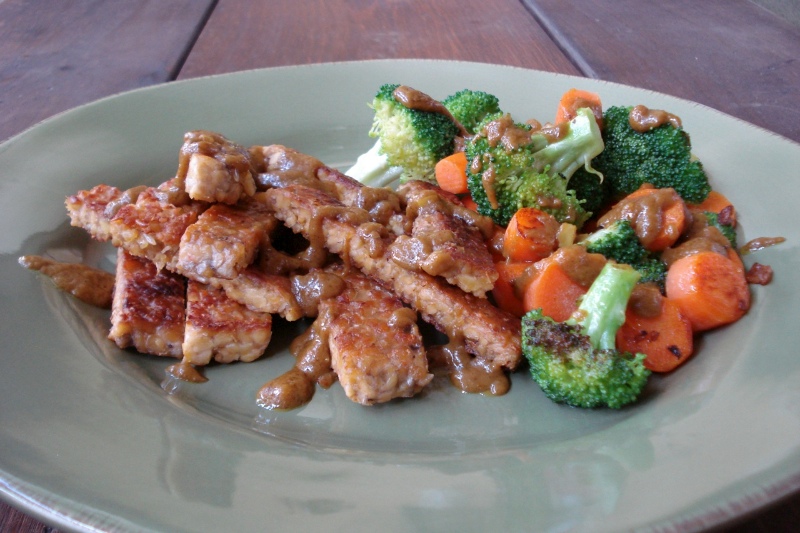 2 tsps coconut oil
2 cloves garlic, minced
2 tsps curry powder
1 cup unsweetened coconut milk
1/4 cup natural peanut butter
2 TBSP natural sugar (or 6 drops liquid stevia)
1 TBSP tamari/soy sauce
2 packages soy tempeh (16 oz total)
coconut oil for frying
In a small saucepan, heat 2 tsps oil over medium heat.
Add the garlic & cook about a minute.
Add the curry powder & cook, stirring until combined.
Stir in the coconut milk, peanut butter, sweetener & soy sauce.
Cook uncovered stirring occasionally, until thickened, about 10 mins.
Fry tempeh in oil.
______________________________________________________________________________________
SIDE NOTES

:

~ Adapted from "1000 Vegetarian Recipes"

~ Although the recipe calls for small, bite sized squares, these days, I like cutting tempeh into strips (or patties). They're much easier to turn over in the pan this way. And by the way, the best trick to getting tempeh out of its packaging is to cut right down the middle, through the plastic, & gently push out each half from the ends.

~ The recipe calls for deep frying the tempeh. I just coat the bottom of the pan w/ oil & flip. I add more oil for the second side if needed.

~ After cooking the tempeh, I use the same pan to saute some carrots, broccoli & garlic. Throw in whatever veggies you want, keeping in mind that some veggies take longer than others to cook (like carrots), so start them first, then add the softer veggies. I stir fry for only a few minutes, then remove pan from heat & let sit for just a few mins covered (to steam the veggies a bit). Alternately, you can opt for the healthier route & simply steam the veggies from the get-go, skipping the frying altogether.

~ The sauce can also be used for a Thai type salad. It's great drizzled over lettuce, cukes & shredded carrot.

~ Of course, you can use any peanut sauce recipe for this dish if you already have a favorite you want to stick with.

 For those with various food restrictions

, this recipe falls into the following categories:

Dairy Free, Gluten Free, Egg Free, Nut Free, Sugar Free, Grain Free, Vegan, Raw

If eating gluten free, use a gluten free tamari, and "soy" tempeh (not "three grain", "flax", or "veggie").  You can turn this into a nut-free sauce if need be by using sun butter (you can purchase this or make your own).  If avoiding sugar, substitute stevia.