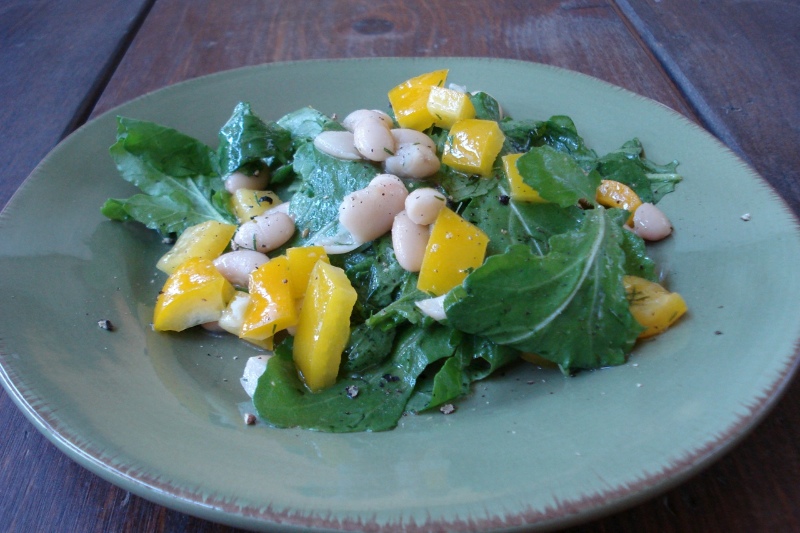 For the Dressing

:

1/3 cup extra-virgin olive oil
3 TBSP lemon juice
1 TBSP minced fresh dill
1 small garlic clove, finely chopped
coarse sea salt & freshly ground pepper to taste
For the Salad

:

3 bunches arugula, trimmed & roughly chopped (6 – 7 cups)
1 15 oz can white beans, drained (cannellini or great northern)
1 yellow bell pepper, seeded & diced
shaved parmesan cheese for garnish (optional)
In a large bowl, whisk together the oil, lemon juice, dill, garlic, salt & pepper.
Add the arugula, beans & yellow pepper & toss to combine.
Garnish w/ cheese if using.
______________________________________________________________________________________
SIDE NOTES

:

~ From "Fresh Food Fast"

~ Very easy to throw together & delicious. I get sick of the same old salad all the time. I cut the recipe in half & devoured the whole thing myself for lunch.

~ Arugula is a peppery type of lettuce, it's got a kick to it. I don't bother chopping it up, I just remove the stems.

~ Over the past year, I've gotten used to using dried beans & soaking/cooking myself. However, I don't stick to it religiously, as I often want to just throw something together on the fly.  If using canned, I recommend a high quality product such as Eden.

 For those with various food restrictions

, this recipe falls into the following categories:

Dairy Free, Gluten Free, Egg Free, Nut Free, Sugar Free, Grain Free, Vegan, Raw

If you're eating dairy free, omit the cheese.