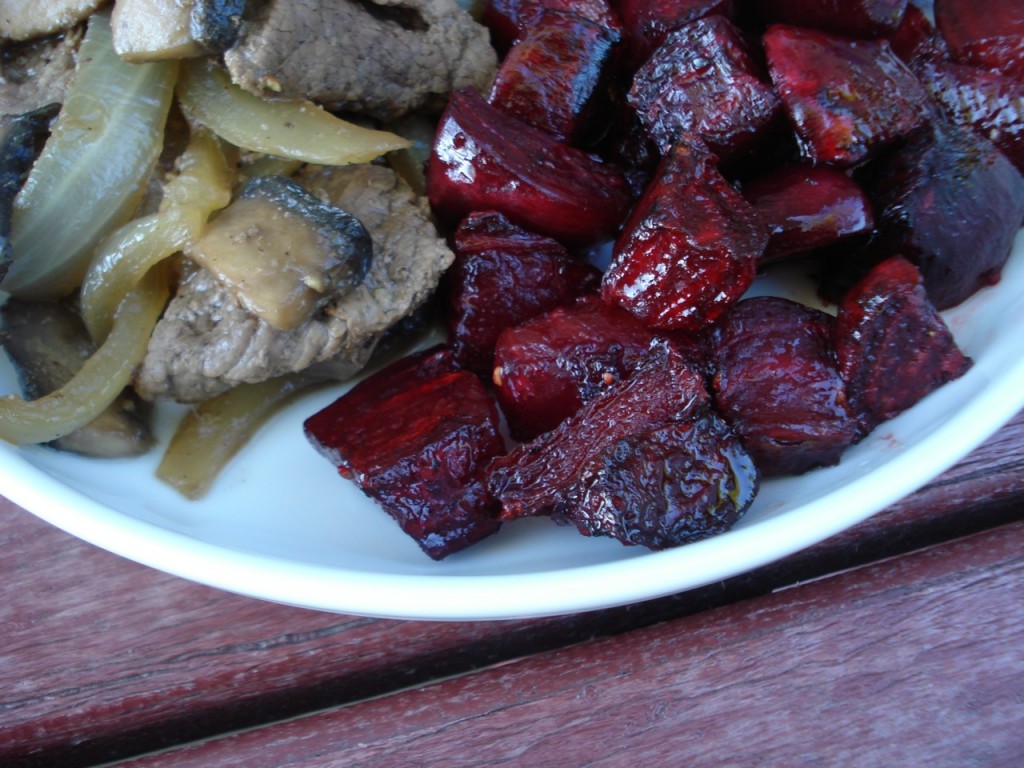 4 large beets, peeled & cut into chunks
2 TBSP melted butter, ghee, or coconut oil
1/2 tsp pure salt
freshly ground black pepper
balsamic vinegar (optional)
Preheat oven to 400.
Wash beets, cut them into chunks & place in large bowl.
Add oil & toss to combine.
Add salt & pepper & toss again.
Spread out on baking sheet (9×13 pyrex works well) & bake for 40 mins (more or less, depending on what looks good to you).
Drizzle with balsamic vinegar & serve.
______________________________________________________________________________________
SIDE NOTES

:

This recipe was passed on to me from my friend Lynn. It's delicious! (Though only half of us are beet lovers in this house). I sometimes add other spices to this recipe, like rosemary or thyme.

I had never eaten a beet before I joined my local CSA several years ago. Now I look forward to seeing them in my weekly box during harvest season!

Not necessarily table talk, BUT…..If you try beets for the first time, don't be alarmed if the next day, both liquids & solids coming out the other end have a bright magenta hue, and in fact, if you'd like to check your "bowel transit time" (how long it takes food to travel from mouth to toilet), eating beets is the easiest way to do it.

 For those avoiding certain foods

, this recipe falls into the following categories:

Dairy Free, Gluten Free, Egg Free, Nut Free, Sugar Free, Grain Free, Vegan, Raw

If eating dairy free use coconut oil instead of butter.