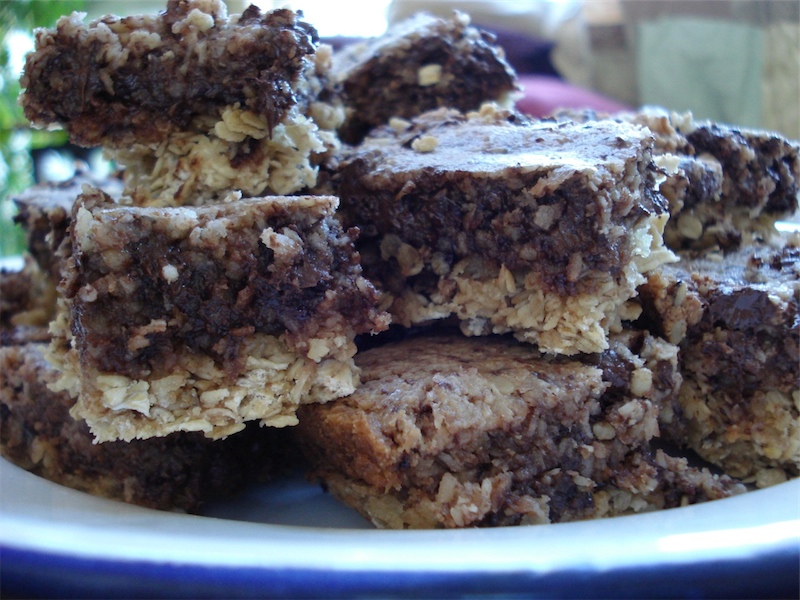 For the Bottom Crust

:

4 cups quick cooking rolled oats
1/2 cup maple syrup
pinch of puresalt
1/2 cup hot water
For the Topping

:

2 cups chocolate chips (or nibs)
1 cup finely chopped walnuts
1/2 cup maple syrup
2 cups shredded, unsweetened coconut
1 & 1/2 tsps arrowroot, kudzu or cornstarch
Preheat oven to 350 degrees.
In a medium bowl, mix the oats, maple syrup, salt & water.
Using the back of a large spoon, press the mixture firmly & evenly into an oiled 9×13 inch baking dish. Or instead, place parchment paper or plastic wrap on top of the mixture, roll it with a rolling pin, & remove the paper/plastic.
Bake 8 – 10 mins & set aside.
While the crust is baking, in the same medium bowl, combine all the topping ingredients.
Transfer the mixture to a food processor & pulse until sticky.
Remove dish from oven, place topping over the oat crust & using another sheet of parchment paper, cover the topping and evenly roll out the mixture (or alternately, spread out w/ spoon).
Remove the paper and bake 20 – 25 mins.
Let stand to cool & set.
______________________________________________________________________________________
SIDE NOTES

:

~ From "The Chicago Diner Cookbook"

~ I find it comes out best if I really press the oat crust firmly into the dish (I use the rolling pin method).

~ There are many different kinds of chocolate chips these days to suit everyones needs. Aside from the regular old choc. chips our parents used, there are now grain sweetened, dairy free, gluten free, carob chips, raw cocao nibs, and more. Here's a great resource for high quality, organic chocolate suppliers.  Personally, I use navitas sweetened nibs.

www.greenpromise.com/chocolatesuppliers

~ If substituting nibs for the chocolate chips, reduce to 1 & 1/2 cups.

For those with various food restrictions

, this recipe falls into the following categories:

Dairy Free, Gluten Free, Egg Free, Nut Free, Sugar Free, Grain Free, Vegan, Raw

If eating gluten free, be sure to use certified gluten free oats and be careful with your choice of chocolate.