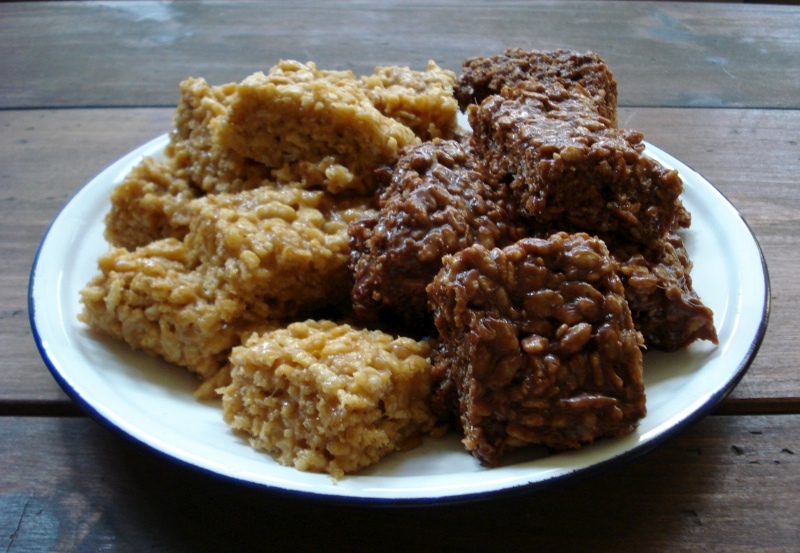 1 cup brown rice syrup
1/2 cup natural peanut butter (or other nut/seed butter – see notes below)
1/2 cup chocolate chips (optional)
3 cups crispy, brown rice cereal
In a large saucepan, heat the rice syrup & peanut butter over low heat until creamy.
Stir in chocolate chips until they melt.
Remove from heat & stir in cereal until coated.
Press into a shallow, casserole dish (8×8 pyrex works well).
Allow to set until firm.
Cut into squares & serve.
________________________________________________________________________
SIDE NOTES

:

~ Adapted from "Cooking the Whole Foods Way"

~ If you're a chocolate lover, make them as is. If you like peanut butter better than chocolate, omit the chocolate chips & add a few extra dollops of peanut butter. Personally, we like the peanut butter version better.

~ There are many different kinds of chocolate chips these days to suit everyones needs. Aside from the regular old choc. chips our parents used, there are now grain sweetened, dairy free, gluten free, carob chips, raw cocao nibs, and more. Here's a great resource for high quality, organic chocolate suppliers.  Personally, I always use navitas sweetened nibs in place of chocolate chips.

www.greenpromise.com/chocolatesuppliers

For those with various food restrictions

, this recipe falls into the following categories:

Dairy Free, Gluten Free, Egg Free, Nut Free, Sugar Free, Grain Free, Vegan, Raw

Not sure if all brown rice syrups are gluten free, but the one I keep on hand is (Lundberg Organic). If you can't eat nuts, but are Ok with sunflower seeds, substitute sunbutter for the peanut butter (which would make this a nut-free recipe).