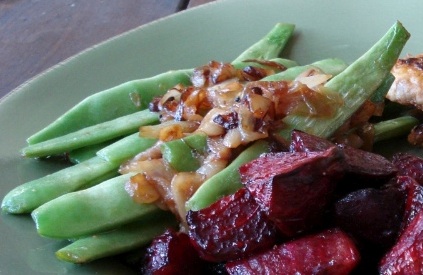 coconut oil, butter, or ghee
1 large onion, sliced thin
4 large garlic cloves cut into chunks
1 pound pole beans, ends trimmed
pure salt & freshly ground pepper to taste
Caramelize the onions by slowly & gently cooking them in the oil so they become translucent, then brown very slowly (this may take 15 – 20 mins).
Once the onions look pretty good, add the garlic & saute just a few minutes more.
Add the beans & continue cooking until tender crisp (5 – 10 mins depending on how you like them).
Add salt & pepper to taste & serve.
______________________________________________________________________________________
SIDE NOTES

:

~ Pole beans are another vegetable introduced to me by my CSA farm. This dish is so savory & crisp-crunchy.

 For those with various food restrictions

, this recipe falls into the following categories:

Dairy Free, Gluten Free, Egg Free, Nut Free, Sugar Free, Grain Free, Vegan, Raw

If eating dairy free, use coconut oil instead of butter.