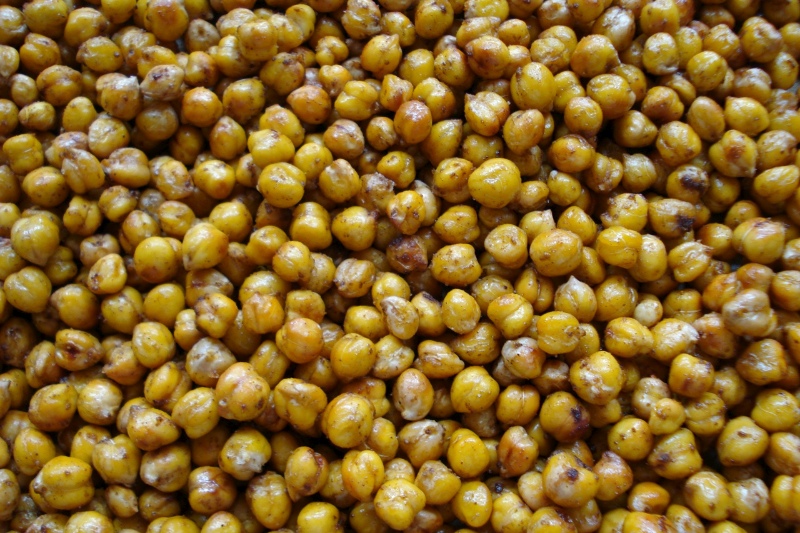 2 cups DRY garbanzo beans (1 15 oz bag)
6 cups of water (room temp is best)
1 TBSP melted coconut oil or extra virgin olive oil
2 tsps moroccan spice mix
1/2 tsp sea salt
To make the spice mix

:

2 tsps ground cumin
1 tsp ground coriander
1/2 tsp each of chili powder, paprika & cinnamon
1/4 tsp ginger
1/8 tsp cayenne
pinch of ground cloves
Rinse beans in a colander.
Add the beans to a bowl with the water & soak overnight for approx 12 hours.
Drain beans and let them sit in the colander for 15 – 30 mins to let out the excess moisture. Preheat oven to 350.
Transfer chick peas to a large bowl & toss with oil.
Add spices & salt & toss again.
Spread on baking pan in a single layer.
Bake approx 1 hour (checking earlier for desired crunchiness).
______________________________________________________________________________________
SIDE NOTES

:

~ You don't have to make that exact spice mix. You can just add a pinch of whatever spices you feel like. The moroccan spice mix is good on veggies & in soups too, so you can make the full amount & keep the left overs in an extra spice jar. Alternately, you might even be able to buy a pre-made moroccan spice mix if you'd like.

~ Using a glass pyrex dish, these come out crunchier. A parchment covered cookie sheet will make them more chewy. My daughter likes them on the chewy side, so that's our preferred method. May the force be with you….

For those with various food restrictions

, this recipe falls into the following categories:

Dairy Free, Gluten Free, Egg Free, Nut Free, Sugar Free, Grain Free, Vegan, Raw