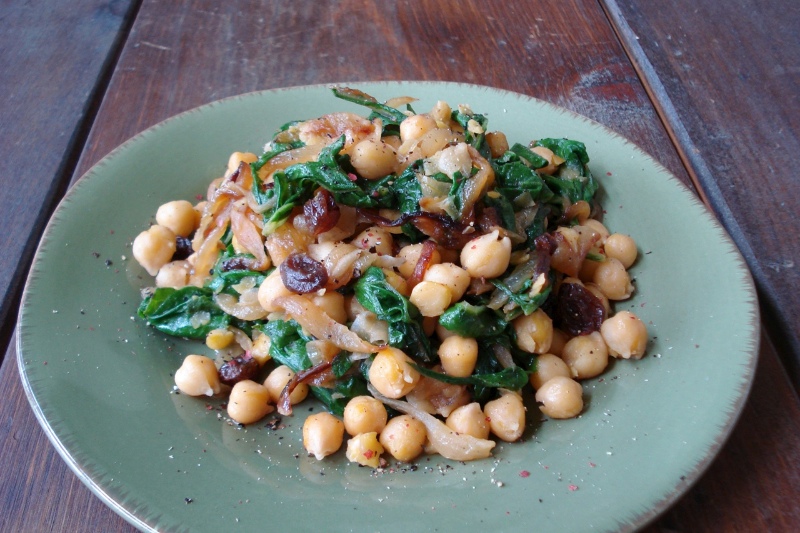 1 large head of escarole (or greens of preference)
4 TBSP butter, ghee, or extra virgin olive oil
2 medium onions, thinly sliced
2 tsps natural sugar (or 4 drops liquid stevia)
1/4 cup raisins
pure salt & freshly ground black pepper
8 oz dried chickpeas (or 2 cans, rinsed & drained)
1/3 cup of the cooking liquid from the chickpeas (or veg broth if using canned)
If using Dried Beans

:
Place 8 oz dried chick peas in glass bowl (or jar) & fill with cold water.
Soak for at least 8 hours or overnight.
Rinse/drain chickpeas & place them in a saucepan with plenty of cold water.
Add 2 cloves of garlic (whole) and 1 bay leaf & bring to a boil.
Reduce heat to a simmer & cook until the chickpeas are still a little firm, tender, but not falling apart – 35 – 60 mins, depending on the variety of chickpeas & how long they were soaked.
Add salt to taste, turn off heat & allow chickpeas to cool in their cooking liquid while you prepare the greens.
When you're ready to drain the chickpeas, discard the garlic & bay leaf & remember to reserve 1/3 cup of the cooking liquid.
To Prepare the Greens

:
Remove the stems from the greens, cut into bite sized pieces, rinse & set aside.
Heat butter or oil in a large saute pan.
Add the onions & cook, stirring often, over medium-low heat until golden – about 15 mins.
Stir in the sweetener & continue cooking about 5 mins (but don't let the onions burn – lower heat if necessary).
Add the raisins & greens to the pan.
Cook, working in the greens until they're wilted & tender – about 5 mins.
Season w/ salt & pepper to taste.
Stir in the chickpeas (prepared or canned) & 1/3 cup cooking liquid (or veggie broth).
Simmer, stirring occasionally until the flavors have blended – about 3 mins.
______________________________________________________________________________________
SIDE NOTES

:

~ Adapted from "The Complete Italian Vegetarian Cookbook" – a phenomenal dish (& book).

~ Soaking the beans only takes about 5 mins hands on work – they basically just have to sit there in water. It just takes a little advanced planning if you're in the mood. (The cooled chickpeas & cooking liquid can be poured into an airtight container & refrigerated for up to 3 days. Or, divide among several smaller airtight containers & freeze for up to several months.)

~ You can use whatever type of greens you want. I usually can't get escarole, so use swiss chard.

 For those with various food restrictions

, this recipe falls into the following categories:

Dairy Free, Gluten Free, Egg Free, Nut Free, Sugar Free, Grain Free, Vegan, Raw

If eating dairy free, use olive oil instead of butter.  If eating sugar free, use stevia instead of sugar.  If eating gluten free, be sure to double check labels of any packaged ingredients you may be using (beans, broth).