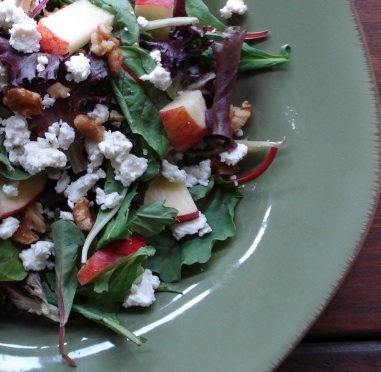 mixed salad greens
1 small apple, chopped
handful of walnuts, broken in half or in pieces
feta cheese (optional)
Italian dressing**
______________________________________________________________________________________
SIDE NOTES

:

~ I ate a salad like this at a little place called the Dragonfly Cafe in Hazleton, PA while passing through on our recent trip to NC. Sooooo good. And it's one of those salads that can fill you up on its own due to the nuts and cheese.

~ It's so easy to throw together, especially if you get a box of pre-washed organic spring salad mix. The only thing with a "box" of lettuce is that once opened, it doesn't last very long. Not a problem though if you're making big, lunch size salads for several people, or you know you'll use it up within a few days.

~ Look for organic feta cheese (I can get this at my regular grocery store).

**  This is great with Italian dressing or simple olive oil & vinegar, but I usually use SESAME-MUSTARD-TAHINI-DRESSING for this salad.

 For those with various food restrictions

, this recipe falls into the following categories:

Dairy Free, Gluten Free, Egg Free, Nut Free, Sugar Free, Grain Free, Vegan, Raw

If you're eating dairy free, try using sliced avocado instead of feta.  If avoiding nuts, omit the walnuts or try using sunflower seeds instead.  If eating strictly raw, omit the cheese and choose an appropriate dressing.