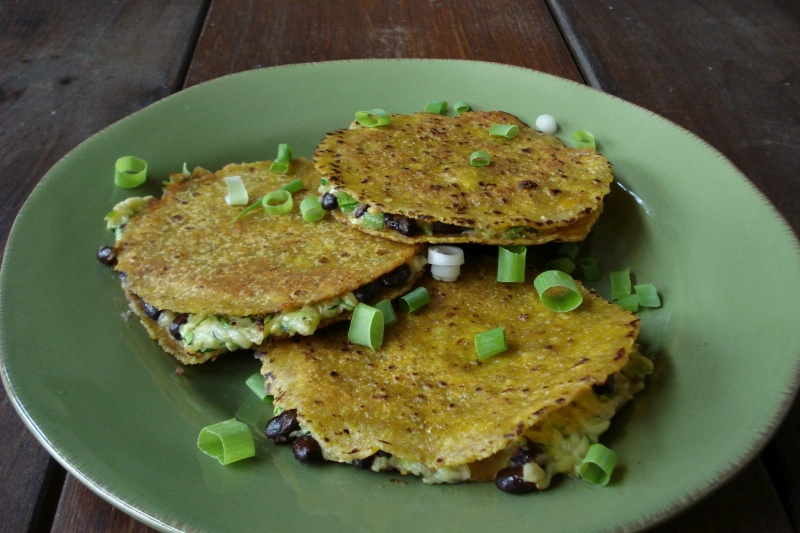 1 pound zucchini, coarsely grated
3/4 tsp pure salt
1 (15 oz) can Eden organic black beans, rinsed & drained
6 oz grated cheese (cheddar, monetary jack, Colby or a combo)
1 scallion, chopped (or chives)
1/2 jalapeno pepper, with seeds, finely chopped (or 1 whole small one)
16 – 20 small corn (or whole grain) tortillas (or 8 large)
melted butter or coconut oil for brushing the tortillas
salsa (optional)
In a colander set inside a bowl, toss together the grated zucchini & salt (let sit while you prep the other veggies).
Press the zucchini with the back of a large spoon to remove as much liquid as you can.
In a large bowl, combine the zucchini, beans, cheese, scallions (or chives) & jalapeno.
Brush 1/2 of the tortillas with butter or oil on one side. Place as many of them as you can (depending on the size of your cooking surface), oil side down in a heated pan.
Top with zucchini mixture (spread evenly and don't over-do it).
Place the dry tortillas on top, and now brush the sides that are facing up with oil.
Cook over medium heat until golden brown, approx 3 – 4 minutes on each side.
Repeat with remaining tortillas.
Serve with salsa if using.  Serves 4.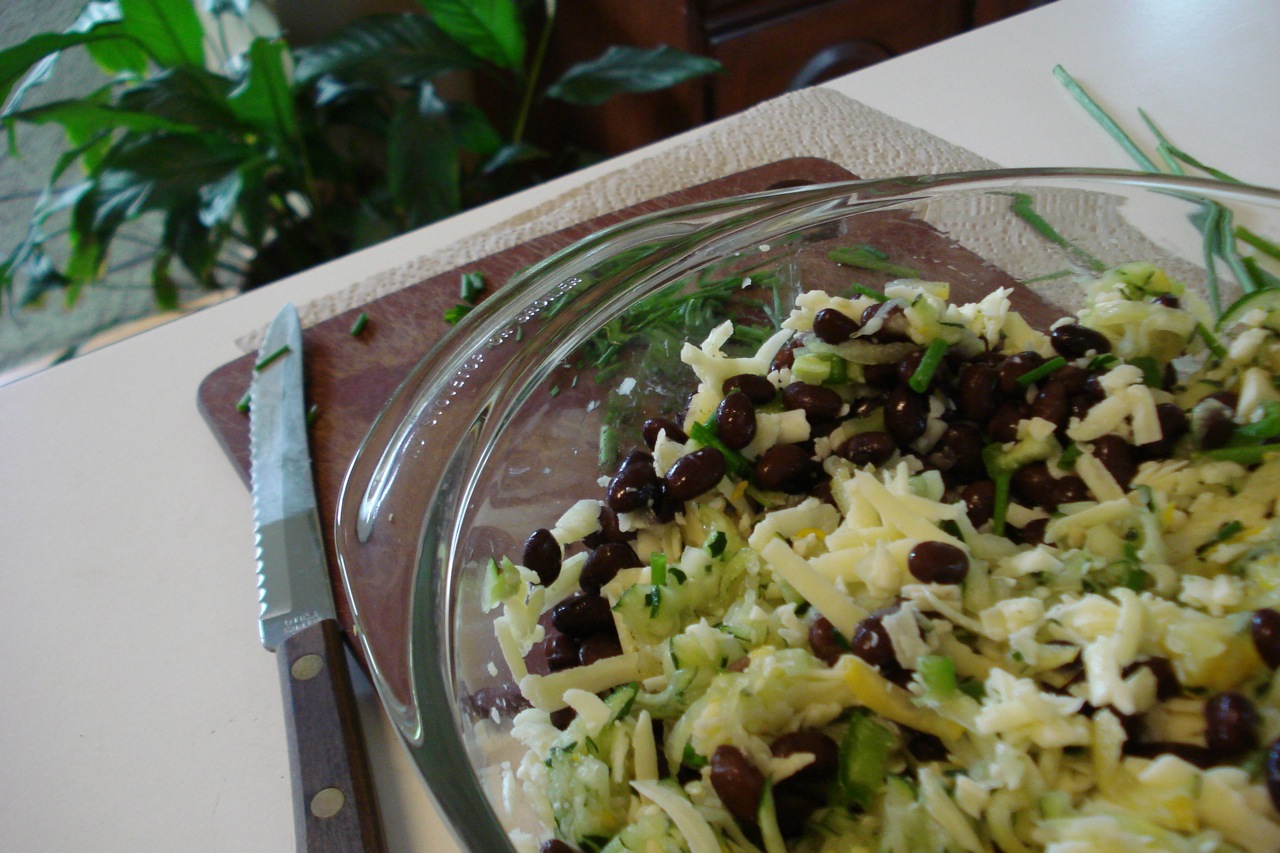 ______________________________________________________________________________________
SIDE NOTES

:

~ Adapted from "Fresh Food Fast." I make this recipe most often in the summer during zucchini season. So delicious!

 For those with various food restrictions

, this recipe falls into the following categories:

Dairy Free, Gluten Free, Egg Free, Nut Free, Sugar Free, Grain Free, Vegan, Raw

If eating gluten free, be sure to use corn tortillas (not multi-grain or brown rice) and double check labels of any packaged ingredients you may be using (beans, salsa).

~ I sometimes use my large food processor (with the grating blade) to first grate the zucchini, then the cheese. It takes only a few seconds this way. A hand grater also works well & gives your arm a good work out =)

~ Keep in mind, as you press the liquid out of the zucchini, you can't get it all out, so just press it for a minute or 2 & move on.

~ I've come to learn that large tortillas are hard to flip without the insides falling out. Try smaller tortillas for more successful flipping.  Our favorites are "Food For Life" sprouted corn tortillas (which are small & easy to flip).  If using this size tortilla, this recipe will yield 8 to 10 quesadillas (depending on how much you stuff them) so you'll need 2 packages of tortillas (12 tortillas per package).

~ Remember, over-stuffing the tortillas makes them harder to flip, so go lightly with the filling.

~ If you have young children, you might want to make the first one or two before you mix in the jalapenos (& maybe scallions too depending on your kids).

~ A dollop of sour cream would probably be nice if you're in the mood (especially if the jalapeno is particularly fiery!)

~ If you're only cooking for two, you can freeze half of the filling for use on a later date. It's always nice to have something like this to pull from the freezer when you want a home cooked meal, but don't have the time or the energy.

~ A large griddle works well for something like this. Just leave yourself some room to flip (don't squeeze too many tortillas on at once). My griddle of choice is "Green Gourmet" by Cuisinart (not coated with teflon).