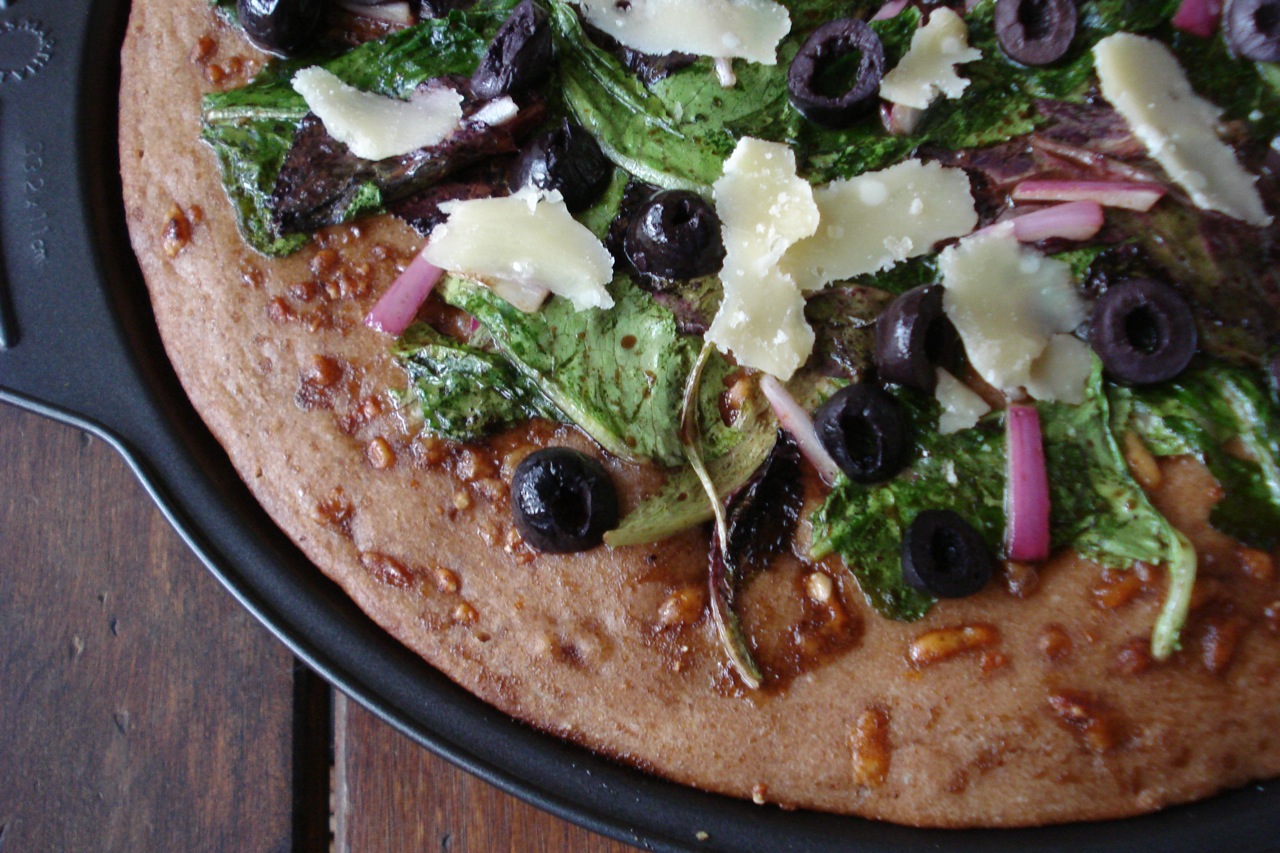 1 0.25-oz pkg of active dry yeast
1 TBSP honey
1 cup potato starch (health food store in flour aisle)
1/2 cup brown rice flour
1/2 cup teff flour
2 tsp guar gum or xanthan gum
1 tsp pure salt
1/2 tsp garlic powder
1/2 tsp onion powder
3 TBSP extra virgin olive oil, plus more for coating pan
Combine yeast, honey & 1 & 1/2 cups warm water in measuring cup.
Let stand 10 to 15 mins, or until liquid is cloudy & bubbly.
Whisk together potato starch, brown rice flour, teff flour, guar gum, salt, garlic powder, & onion powder in large bowl.
Stir in yeast mixture.
Stir in oil.
Cover & let rise in warm place 20 mins.
Brush or rub pizza pan w/ oil.
Scoop dough onto pizza pan & press dough flat to cover pan.
SALAD TOPPING (egg free, gluten free)
for vinaigrette:
2 TBSP balsamic vinegar (or vinegar of choice)
2 tsp honey
1 tsp dijon mustard
1 small clove garlic, minced (about 1/2 tsp)
3 TBSP extra virgin olive oil
pure salt & freshly ground black pepper to taste
3 TBSP grated parmesan cheese
3 cups mixed salad greens of choice (I used a mix of arugula, & green & red romaine)
1/2 cup thinly sliced red onion
1/2 cup thinly sliced fresh fennel (we skipped this & threw on some black olives) (not that olives have anything to do w/ fennel!)
shaved parmesan for garnish (optional)
Whisk together vinegar, honey, mustard & garlic.
Whisk in oil & season w/ salt & pepper if desired.
Let rest 30 mins (or not).
Sprinkle raw pizza dough with grated parmesan.
Place pizza in oven on middle rack, and begin to preheat the oven to 350 (do

not

pre-heat ahead of time).
Once oven reaches 350, bake about 25 mins longer (until it looks good).
Remove from oven & adjust setting to broil.
Brush crust with about 3 TBSP of the vinaigrette.
Toss together salad greens, onions, olives & remaining vinaigrette.
Top pizza w/ salad mixture & place under broiler anywhere from 1 to 3 mins – just until greens wilt (I usually take mine out after 1 minute).
Serve garnished w/ parmesan curls if using.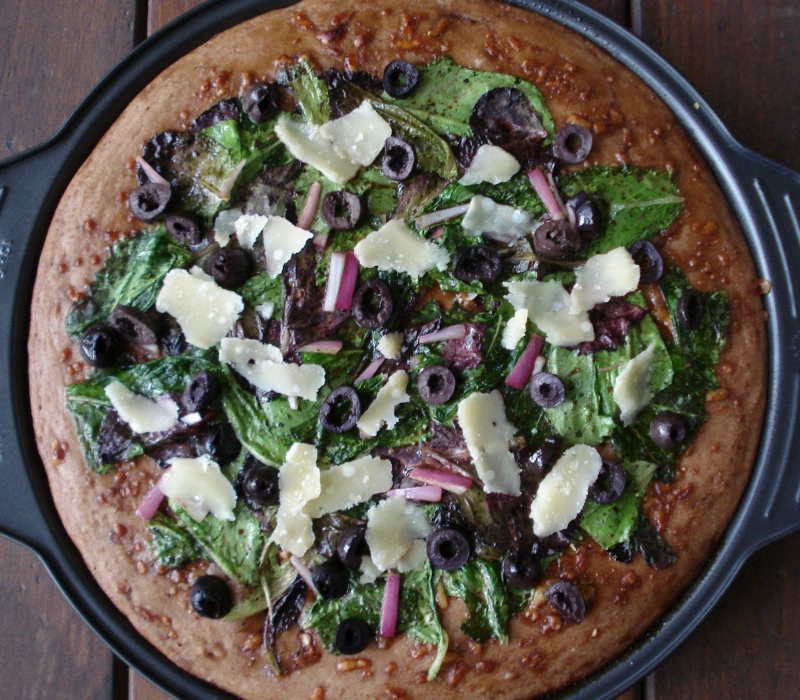 SIDE NOTES

:

~ From Vegetarian Times magazine.

~ Very yummy! I have been making a lot of different pizzas lately. Of course, you can use a regular wheat pizza dough with this salad topping, but for those who are gluten sensitive, this dough is awesome & not too much of a big deal to make. The only big deal is having to have so many different types of flour on hand. All of these combined give it the right texture & taste. What I like to do when making this crust, is to mix together all the flours into the right proportions separately for several pizzas & put them in individual ziplock baggies in the freezer. This way, for the next few times I want to make a pizza, all the flour is already mixed together & ready to go.

~ There are 2 kinds of yeast – active dry or rapid rise. So, don't just put "yeast" down on your shopping list like I did the first time and then stand there staring at the 2 kinds dumbfounded. It's the active dry you want!

 For those with various food restrictions

, this recipe falls into the following categories:

Dairy Free, Gluten Free, Egg Free, Nut Free, Sugar Free, Grain Free, Vegan, Raw

If eating gluten free, be sure to use a gluten free tamari.  If you're vegan and don't use honey, substitute another sweetener such as maple syrup.

~  UPDATE:  I'm not a big fan of guar gum and/or xanthan gum anymore.  In general, I don't recommend them.