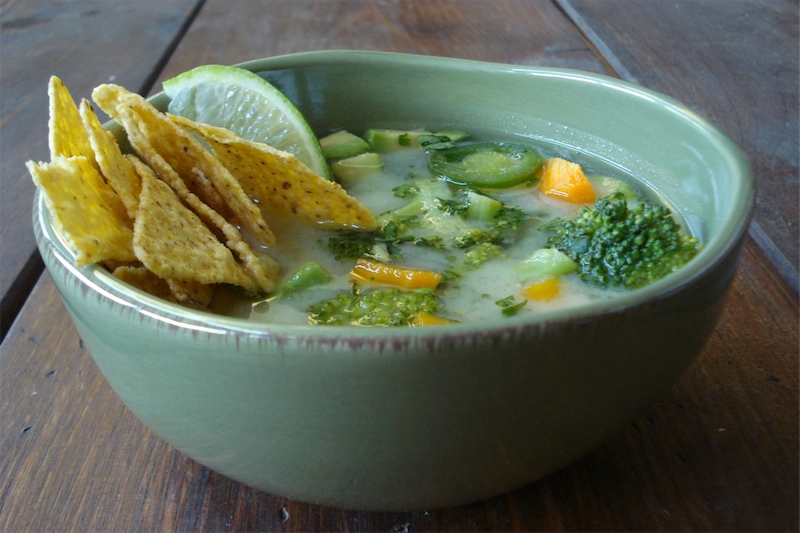 1 head garlic, cloves separated, peeled & crushed
1/2 cup fresh cilantro leaves, chopped (save stems for the broth)
1 large ripe avocado, quartered & sliced
2 limes
2 cups bite-size broccoli florettes
1 large carrot, peeled, halved lengthwise & diced
1 jalapeno pepper (with seeds), sliced into paper-thin rings
1/2 cup white miso, or to taste
In a medium saucepan over high heat, combine 6 cups of water, garlic & the cilantro stems and bring to a boil.
Reduce heat & simmer, covered, for 10 minutes.
Strain out the solids & return the broth to the saucepan.
Cover to keep warm.
Juice 1 lime (or use 2 TBSP jarred) & cut the other lime into wedges.
In a small bowl, toss the avocado pieces with the lime juice & set aside.
Add the broccoli, carrot & jalapeno to the broth & simmer over medium heat for 3 mins, until the veggies are crisp-tender.
Place 1/2 cup miso in a small bowl.
Add a little of the hot soup broth & stir until the miso becomes creamy.
Transfer the miso to the soup & simmer 1 minute longer.
If desired, add more miso to taste.
Stir in the chopped cilantro leaves (& add avocado to each individual bowl, as they may get mushsed if you add to soup pot & stir around).
Serve with tortilla chips & lime wedges.
______________________________________________________________________________________
SIDE NOTES

:

~ From "Fresh Food Fast." Ay carumba!

~ A garlic press works well 4 this one.

~ I don't like chopping large amounts of cilantro/parsley/basil by hand & always use my small food processor for this type of work.

 For those avoiding certain foods

, this recipe falls into the following categories:

Dairy Free, Gluten Free, Egg Free, Nut Free, Sugar Free, Grain Free, Vegan, Raw