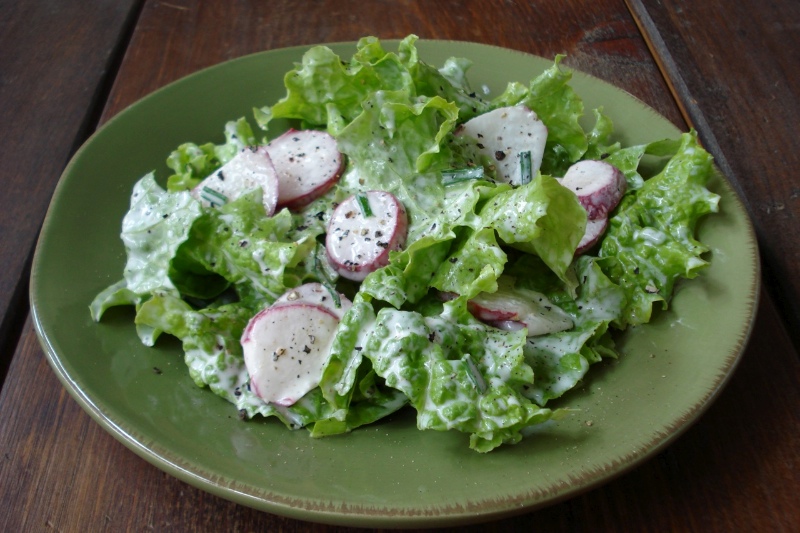 10 oz lettuce leaves (about 10 cups)
3 to 4 red radishes, thinly sliced
For the Dressing

:

1/2 garlic clove
1/3 cup high quality sour cream
1 TBSP lemon juice
1/2 tsp pure salt
1 TBSP extra-virgin olive oil
1 TBSP chopped fresh chives
freshly ground black pepper
Rub the inside of a salad bowl vigorously with the garlic clove half.
Add the sour cream, lemon juice & salt & whisk to combine.
Whisk in the olive oil & chives & season w/ black pepper.
Add lettuce & radishes & toss.
______________________________________________________________________________________
SIDE NOTES

:

~ The recipe (from Fresh Food Fast) calls for Bibb lettuce. I'm unfamiliar w/ that type of lettuce & just use what I have. I do recommend using something firm & crunchy as opposed to soft, baby greens. Also, (anytime you're making a salad) make sure you drain the lettuce well after washing or you'll end up with a wishy/washy dressing. Either pat it dry w/ a paper towel or use a salad spinner. Of course, if you buy pre-washed lettuce it's not an issue.

~ If you're in a fancy mood…..The original recipe actually calls for "creme fraiche" which is a particular type of sour cream. I just use regular sour cream. You can get dairy free sour cream (tofuti brand) if you'd like, but it's got hydrogenated oils in it so I don't recommend it.

 For those with various food restrictions

, this recipe falls into the following categories:

Dairy Free, Gluten Free, Egg Free, Nut Free, Sugar Free, Grain Free, Vegan, Raw

If you're eating strictly raw, you can opt to make your own sour cream from raw cream if you have access to it (from a local dairy farmer).