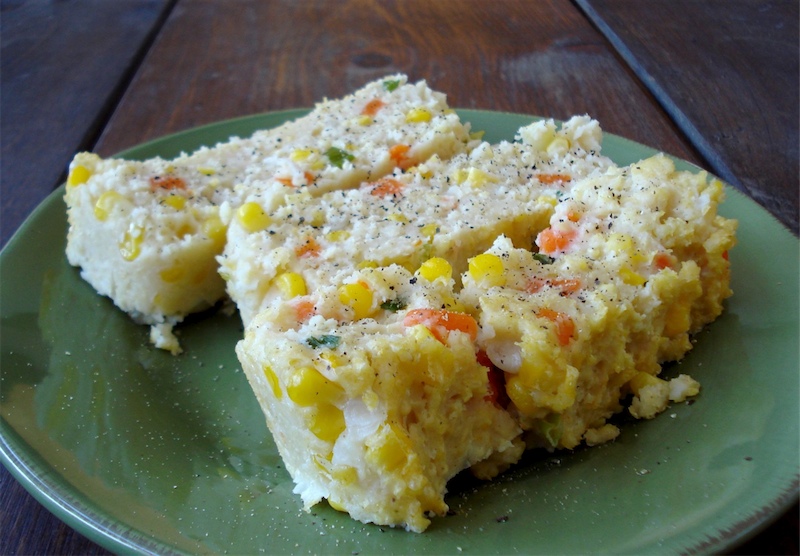 1 small onion, diced
1 or 2 carrots, diced
1 bag frozen corn
1 & 1/2 cups millet, rinsed
6 cups water
pure salt
2 scallions, thinly sliced
2 TBSP umeboshi vinegar
3 heaping TBSP sesame tahini
In a medium pot, place diced onion, carrot, frozen corn & millet.
Add water & 1/2 tsp salt.
Cover & bring to a boil over medium heat.
Give it a stir, reduce heat, & simmer, covered for about 25 mins (make the heat even lower toward the end as there is less & less water in the pot – don't want it to burn on the bottom….stir it to see how it's doing).
Add an additional 1/2 tsp salt & simmer 5 mins longer.
Stir in scallions & remove from heat.
Preheat oven to 300.
Lightly oil a loaf pan.
In a small bowl, whisk together umeboshi vinegar & tahini & stir into cooked millet.
Press mixture into prepared pan & bake, uncovered, for about 15 mins.
Allow to cool slightly (maybe 10 mins) before slicing so the loaf firms up.
Cut into slices, add lots of fresh black pepper, & serve with tahini gravy.
Will generously feed a family of 4.
Tahini Gravy

:

1 & 1/2 cups broth (veg or chicken) or water (I use broth)
1/2 cup tahini
2 TBSP tamari/soy sauce
1 TBSP maple syrup (or 6 drops liquid stevia)
freshly ground pepper
In a small saucepan over medium heat, whisk all ingredients together & bring to a slow boil.
Cook (stirring w/ whisk) until it has thickened to desired consistency.
Start the gravy about 30 mins before you need it.
______________________________________________________________________________________
SIDE NOTES

:

~ Loaf recipe from "Cooking the Whole Foods Way". Gravy is mine =)

~ The photo was taken on day 2, as leftovers. Day one, they weren't so much slices as they were scoops. It tasted just the same both days (delicious), so don't worry if your loaf is a little soft & you can't slice it. After it sat in the fridge over night of course, I was able to make nice slices the next day for lunch after heating up.

~ This recipe won't all fit into one loaf pan. It's more like a loaf & a half, so if you have an extra loaf pan (or any other type of small baking dish for the extras) – that would be great.

 For those with various food restrictions

, this recipe falls into the following categories:

Dairy Free, Gluten Free, Egg Free, Nut Free, Sugar Free, Grain Free, Vegan, Raw

If you're eating gluten free, be sure to use a gluten free tamari for the gravy.  If eating sugar free, use stevia instead of maple syrup for the gravy.