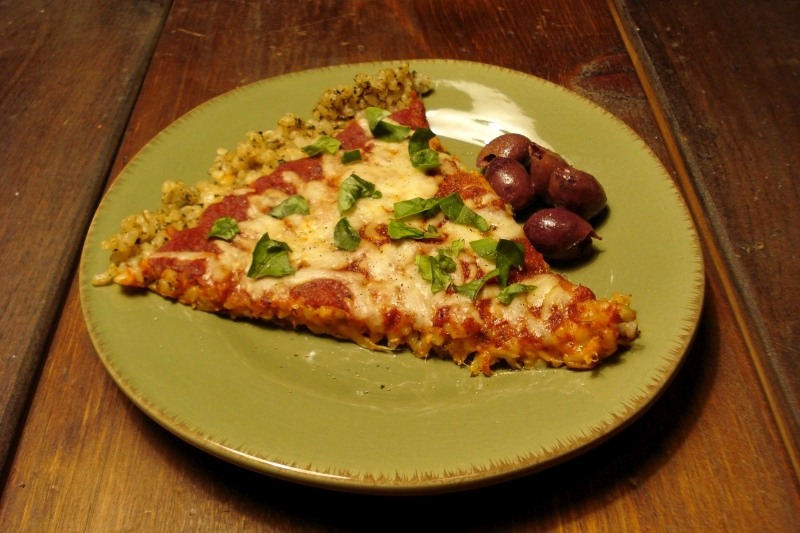 3 cups water
few pinches pure salt
1& 1/2 cups short grain brown rice
1 TBSP extra virgin olive oil
2 tsp dried basil
1/4 tsp garlic powder
1/4 tsp pure salt
1/2 tsp crushed red pepper (more or less to taste)
good quality pizza sauce
Combine rice, water & a few pinches of salt in a saucepan & bring to boil.
Reduce heat to low, cover & simmer 45 mins.
Preheat oven to 375.
Once rice is cooked, mix in the olive oil, herbs, salt & pepper.
On a lightly oiled pizza pan, spread out the rice mixture & use the back of a spoon to press evenly onto pan.
Bake rice crust for 8 – 10 mins.
Remove from oven & add pizza sauce (spreading evenly with the back of a spoon).
Add toppings of choice & bake about 10 mins longer, (more or less depending on what toppings you use & how well done you like it).
Let cool for a few mins before serving.
Topping choices

:

I most often make this with a topping of roasted red peppers, broccoli & garlic as follows: Cut pepper in half, remove pith & seeds & roast under broiler 5 – 10 mins – until quite charred. Turn peppers over & roast just a few mins more on the other side. Remove from oven & let cool in a dish. The skin should slip off pretty easily once cooled. Slice peppers to desired size. While the peppers are roasting, saute a few chopped garlic cloves with broccoli (chopped into pretty small florets). Add this on top of the pizza sauce & put back in the oven for 7 – 10 mins. Fresh basil is nice over the top.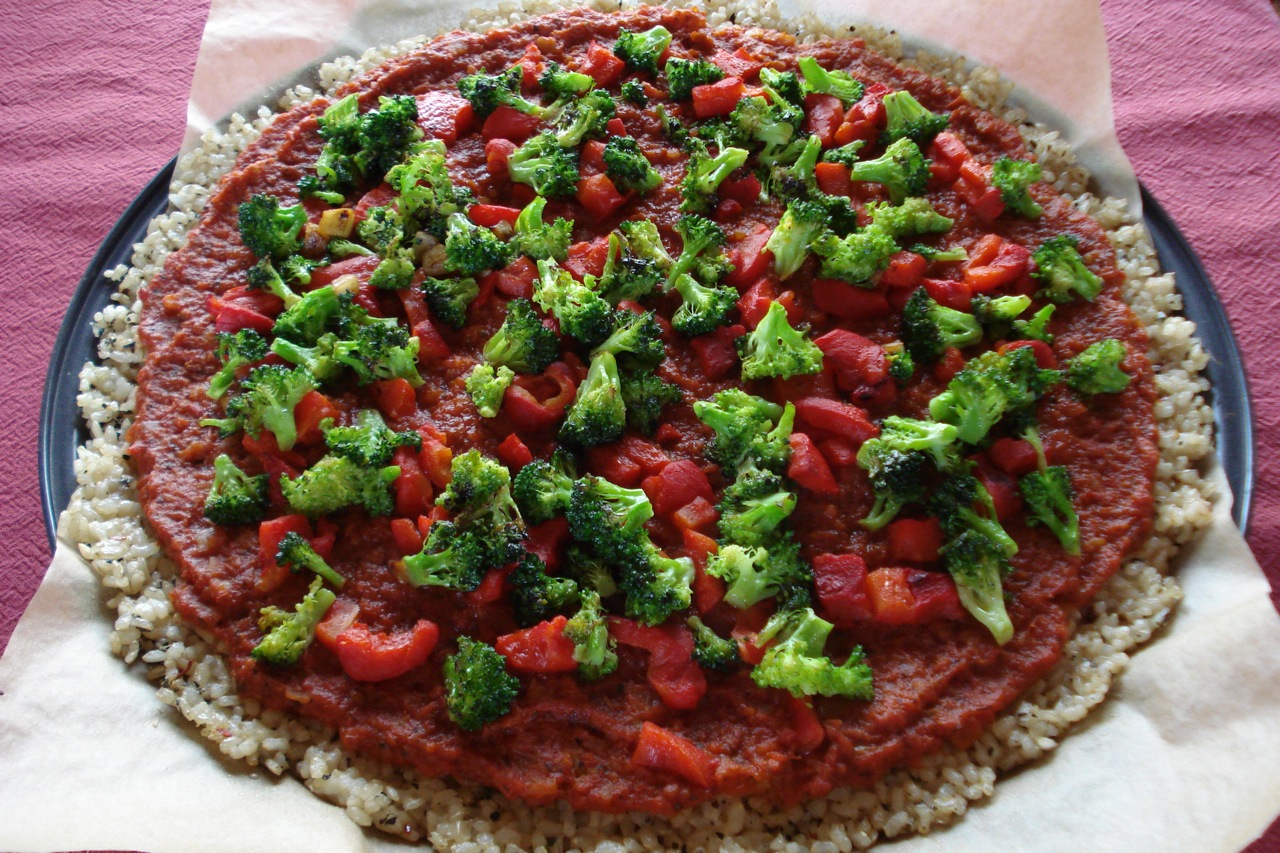 I've also made this with roasted eggplant, zucchini & red onion slices. (see "roasted veggie pizza" for detailed instructions)
If we're in a cheesy mood, I top with shredded mozzarella & fresh basil (as shown in photo at top of page). I don't add the basil until the pizza is done – just tear up & sprinkle fresh basil over the top.
Whatever topping we use, we enjoy a few nice olives on the side. Of course, the topping can be whatever you're in the mood for – sun-dried tomatoes, fresh tomato slices, jalapeno peppers, spinach…etc.
______________________________________________________________________________________
SIDE NOTES:
~ Adapted from "Vive La Vegan." The kids say "Yay" when the answer to "What's for dinner?" is this.
~ Using short grain brown rice works well w/ this recipe as it's sticky & holds together nicely.
~ If you try to cut slices & serve as soon as it comes out of the oven, the "slices" will look more like this….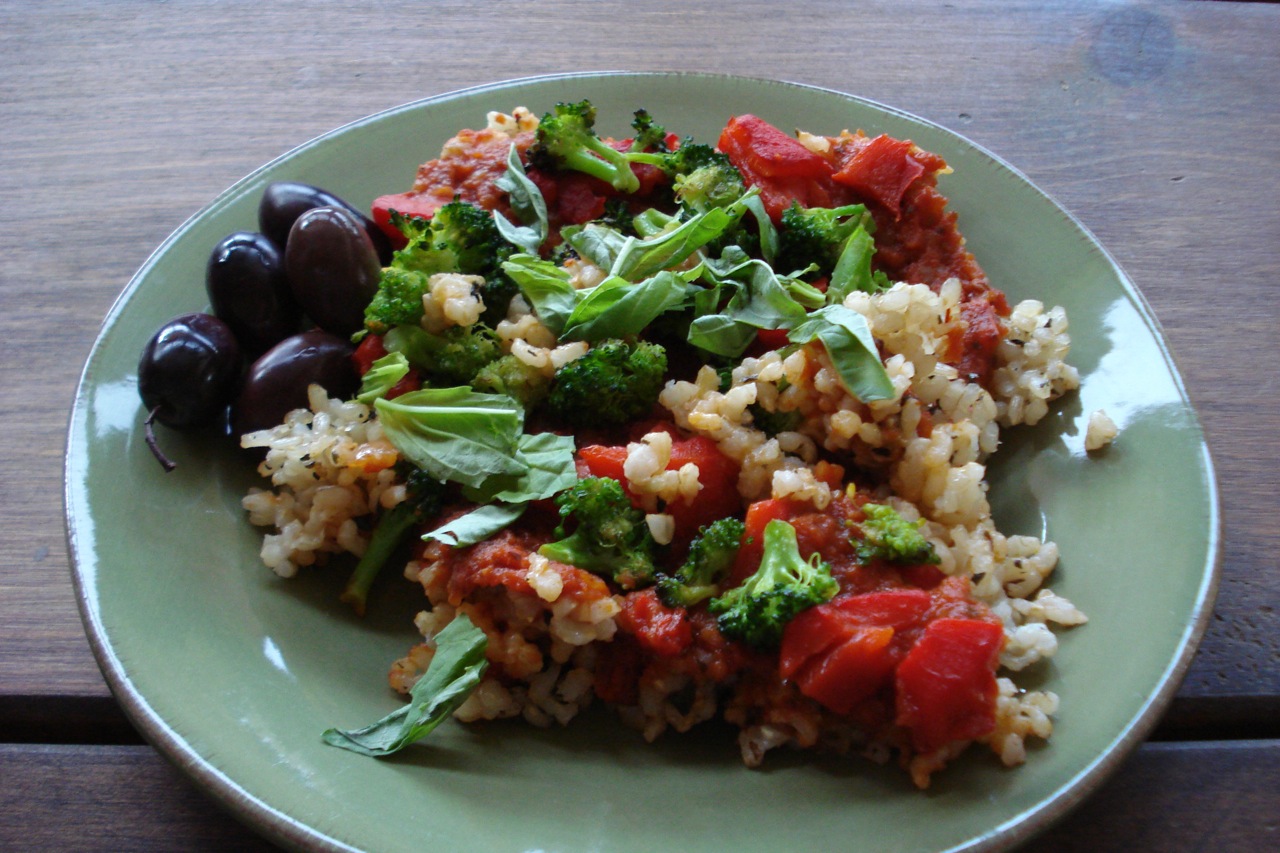 …..which of course doesn't make any difference taste wise so it's up to you. If you let it cool for 5 or so mins, you have a greater chance of retaining a triangle shape. This pizza is eaten with a fork anyway, so if it's late & you're all starving, just scoop it onto plates & enjoy!
~ The author uses a different spice mixture for the crust which is as follows: 2 tsp dried oregano, 2 tsp dried basil, 1/2 tsp dried marjoram, 1/4 tsp salt, few pinches of black pepper. I didn't care too much for this mixture so made a few changes. You can really add anything you want (parsley, rosemary, onion powder…).
~ If you're going to buy a pizza pan to try out this recipe….Some pizza pans have holes in them to let traditional type dough breathe while cooking. You don't want one of those for this recipe as some of the rice falls through & it gets messy. A 12 or 14 inch pan works well. I usually line the pizza pan w/ a piece of unbleached parchment paper.
 For those with various food restrictions

, this recipe falls into the following categories:

Dairy Free, Gluten Free, Egg Free, Nut Free, Sugar Free, Grain Free, Vegan, Raw

If eating gluten and/or sugar free, be sure to double check labels of any packaged goods (such as tomato sauce).