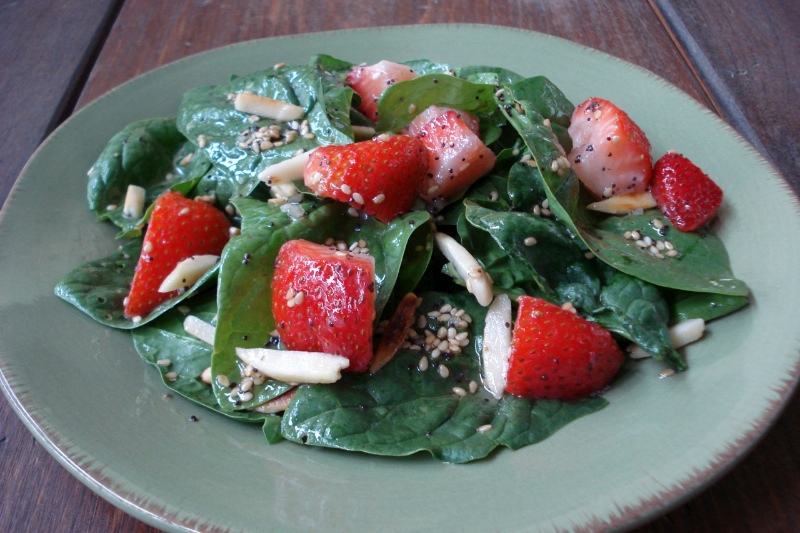 1 bag fresh spinach
1 pint fresh strawberries, halved (or quartered if they're very big)
1/2 cup slivered almonds, toasted (optional)
For the Dressing

:

2 TBSP sesame seeds
1 TBSP poppy seeds
1 & 1/2 tsp onion, diced
1/4 tsp worcestershire sauce (optional)
1/2 cup extra virgin olive oil
1/4 cup apple cider vinegar
Toast almonds in a dry skillet for a few minutes & set aside.
Add spinach & strawberries to a large bowl.
In a small bowl, whisk together dressing ingredients, pour over salad, toss & sprinkle with almonds.
______________________________________________________________________________________
SIDE NOTES

:

~ This recipe came (along with a bag of spinach!) with one of my CSA pick ups a year or 2 ago. It's become a summertime standard (thanks Nancy!)

~ I sometimes use dried minced onion instead of fresh (if you're going to do this, cut it down to 1/2 tsp).

~ If you can't find slivered almonds in the nut aisle, check the baking aisle.

~ You will probably have more dressing than you need, so just add a little at a time until it looks good to you.

 For those with various food restrictions

, this recipe falls into the following categories:

Dairy Free, Gluten Free, Egg Free, Nut Free, Sugar Free, Grain Free, Vegan, Raw

If you're eating gluten free, be careful with your choice of Worcestershire sauce (I believe Wizard brand is gluten free).  If eating raw or sugar free, omit the Worcestershire sauce.  If avoiding nuts, omit the almonds.