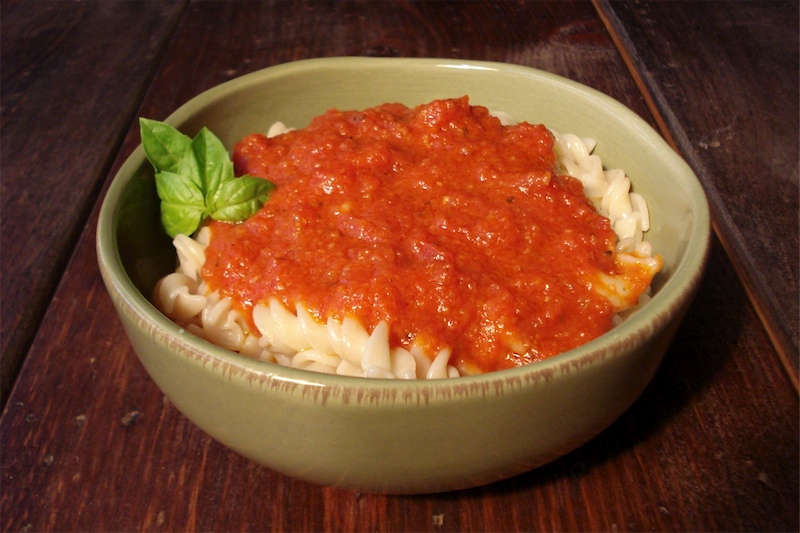 (dairy free, egg free, gluten free, sugar free)
For the base:
1 lb cubanelle peppers
32 cloves garlic, peeled (sounds like a lot?…..see notes below)
1 tsp dried basil
Cut off tops of peppers & remove seeds. Puree in food processor with garlic & basil. Fill an ice cube tray with the puree & freeze. When frozen, transfer cubes to a freezer bag or other storage container. Makes approx 18 cubes (enough to make the sauce 9 times!!)
For the sauce:
extra virgin olive oil
2 cubes of the pepper base
28 oz can crushed tomatoes
1/2 can water (use tomato can)
1 tsp sea salt
Cover bottom of 4 qt pot generously with extra virgin, cold pressed, olive oil. Cook 2 cubes (of the pepper base) until you smell the garlic cooking (just a few mins after it melts – you don't want it to brown). Add crushed tomatoes & approx 1/2 can of water (swish the water around in the can to get the remaining tomatoes). Cook, uncovered for about 30 mins, stirring occasionally. You can start it at medium heat, then as the sauce thickens, lower the heat as needed. Add salt when it's almost done.
SIDE NOTES:
~ So, now that you've done the work (which really isn't much)……for 8 future lazy nights, all you have to do is throw 2 cubes in olive oil & add the crushed tomatoes. (insert can-can dance here)
~ I've been making this for years, courtesy of Mama Taurosano, my friend's grandma. Thx for sharing one of the best tomato sauces I've ever tasted! If you want the full Taurosano experience, use DeCecco crushed tomatoes (my friend swears by them). I should also mention, I use more garlic than the original recipe. Seems like a lot, but keep in mind it's only about 4 cloves per pot of sauce. Use as little or as much as you like. I've actually used up to 42 big fat cloves w/ delicious results. Pour a glass of red wine, put on your favorite new album & start peeling! =)
~ If you're eating yeast free, be careful w/ the canned tomatoes. Some brands use citric acid as a preservative which is often derived from yeast. Eden organic canned tomatoes contain nothing but tomatoes.
~ I get about a pound & a quarter of the peppers when I weigh them @ the store. Once you trim them, it's around a pound that's left.
~ mamamia =)