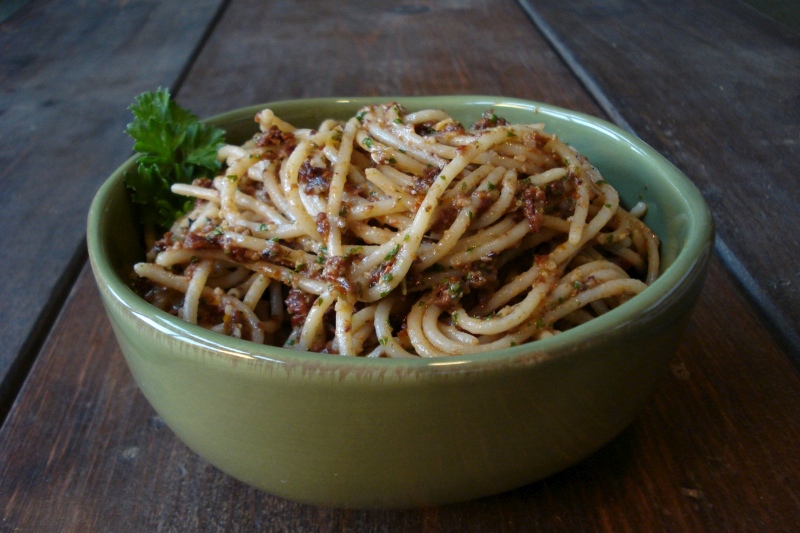 3/4 cup oil-packed sun-dried tomatoes
3/4 cup pitted black or kalamata olives
2 garlic cloves, pressed
1 packed cup fresh parsley leaves
1/2 cup pine nuts
1/2 cup extra virgin olive oil
2 TBSPs (more or less) of the very flavorful oil from the sun-dried tomato jar
whole grain pasta
Pick the parsley leaves while water for pasta is heating up.
While pasta is cooking, put all ingredients in food processor or blender & coarsely blend so the pesto is still a bit chunky.
Drain pasta and toss with pesto.
Make note – This recipe will probably make more pesto than you'll need (see notes below).
______________________________________________________________________________________
SIDE NOTES

:

~ From "Sundays At Moosewood Restaurant." So delicious & LOVE a no-cook sauce!

~ The recipe states this makes enough pesto for 12 servings. In our house, we found it serves 6 adults. This is based on 6 ounce pasta servings (so for us, the full recipe is good for 36 oz of pasta). Keep in mind, this is not so much a sauce as it is a concentrated paste, so a little goes a long way. I usually add an extra drizzle of olive oil when tossing the pasta w/ the pesto.

~ This recipe cut in half will fit in a small (mini) food processor. I do cut this in half if making for just the 4 of us. If making the full amount, use large food processor or blender.

~ Use good quality olives as this will make all the difference.

~ The pesto will keep for weeks in a sealed jar in the refrigerator. Top it with a thin coating of oil to seal it. You can also freeze it into cubes (see my FAVORITE-KITCHEN-TOOLS-&-GADGETS page for more info on this). Then next time, all you have to do is boil water.

 For those with various food restrictions

, this recipe falls into the following categories:

Dairy Free, Gluten Free, Egg Free, Nut Free, Sugar Free, Grain Free, Vegan, Raw

If eating gluten and/or sugar free, use an appropriate pasta (brown rice pasta is our personal preference), and double check labels of any packaged products such as sun-dried tomatoes and olives.