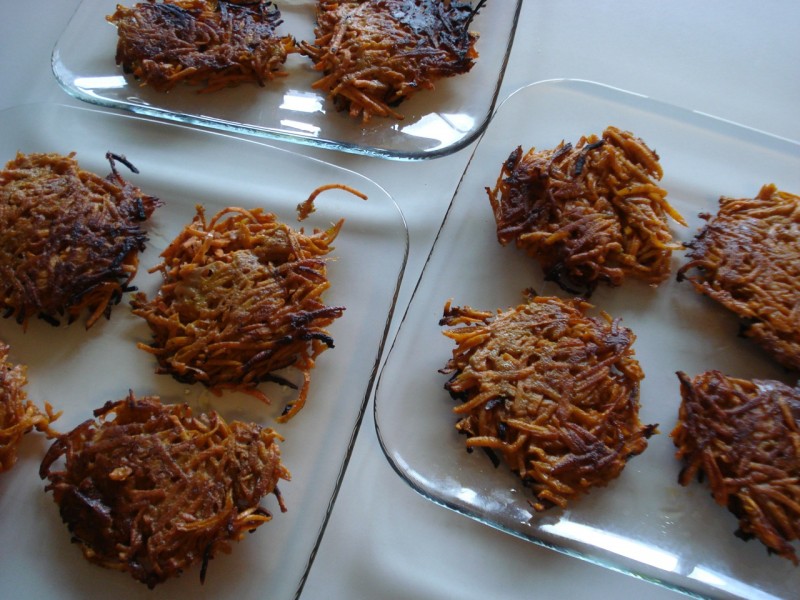 1 egg
2 cups shredded sweet potatoes (about 1 medium sweet potato)
1/2 tsp cinnamon
1/4 tsp pure salt
coconut oil for frying
extra cinnamon for sprinkling
In a medium bowl, beat the egg.
Add sweet potato, cinnamon, salt & stir until combined.
Add oil to a large skillet & heat over medium-high heat.
Add no more than 2 TBSPs of sweet potato mixture for each pancake and press down to flatten with back of spoon.
Cook a few mins on each side until golden.
Serve with an extra sprinkle of cinnamon if desired.
______________________________________________________________________________________
SIDE NOTES

:

~ These are great plain, but if you prefer to sweeten them, serve with apple sauce or maple syrup for dipping. A dollop of high quality yogurt or sour cream over the top also works if that sounds good to you.  They can be breakfast, lunch, side dish, or dessert ,depending on the accompaniment.

~ They cook pretty quickly. As soon as you're done filling the pan with the last pancake, the first one you put in will probably be ready to flip. Don't let them burn. Lower heat if necessary. If they don't all fit in one batch, you will probably need to add more oil for second batch. And remember not to use too much batter for each pancake or they'll fall apart.

~  Some add a few tablespoons of flour to something like this to help hold the fritters together.  While mine typically don't hold together perfectly, they're 95% fine without flour (see photo).

~  There are a lot of things you can add to these simple fritters depending on what you're in the mood for.  For example, sometimes I make these fritters more savory by omitting the cinnamon and adding one or more of the following:  freshly grated parmesan cheese, diced onions, diced jalapenos, fresh or dried herbs.

 For those avoiding certain foods

, this recipe falls into the following categories:

Dairy Free, Gluten Free, Egg Free, Nut Free, Sugar Free, Grain Free, Vegan, Raw