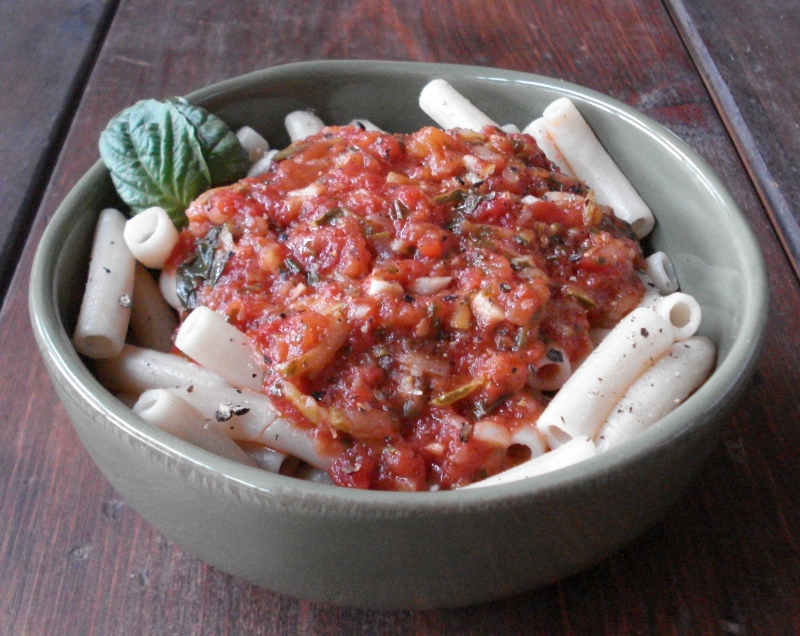 extra virgin olive oil
garlic (about 4 medium cloves), minced
1 medium zucchini, shredded
1 (28 ounce) package whole, peeled, plum tomatoes
salt (doesn't need much – 1/2 tsp max)
fresh basil – as much as you want (I use A LOT!) (I'd say at least 1/2 cup packed)
freshly ground black pepper
Generously coat the bottom of a medium pot with olive oil.
Saute garlic over medium heat for 2 or 3 mins.
Add shredded zucchini & saute another minute or 2.
Add tomatoes, and once boiling, lower heat & let simmer uncovered for 30 mins.
As it's cooking, break up the tomatoes by pressing against the side of the pot with your ladle (or alternately, before adding to pot, chop tomatoes in a bowl with kwik-kut gadget – see KITCHEN-TIPS page).
I add the basil about halfway through.
Add the salt toward the end.
______________________________________________________________________________________
SIDE NOTES

:

~ You can use a garlic press instead of chopping if you want. A cheese grater will do the job for the zucchini.

~ The first time I made it, noticing how lumpy the sauce was, I took a wild guess that the kids would be turned off without giving it a chance, so I stuck my immersion blender into the pot & whipped it into a perfectly smooth sauce. It came out a pretty orange color. They loved it & had no idea they were eating (the dreaded) zucchini. I've made this for Al as well, (another zucchini dreader) but he loves it too (& I don't even have to puree it for him).

~  This sauce is great used for parmesan dishes (chicken, meatball, eggplant)!

 For those avoiding certain foods

, this recipe falls into the following categories:

Dairy Free, Gluten Free, Egg Free, Nut Free, Sugar Free, Grain Free, Vegan, Raw

If eating gluten free, be sure to check labels on any packaged ingredients (such as tomatoes).  If eating grain free, use this sauce over spaghetti squash instead of pasta.

The same sauce, pureed in the blender for the kids….