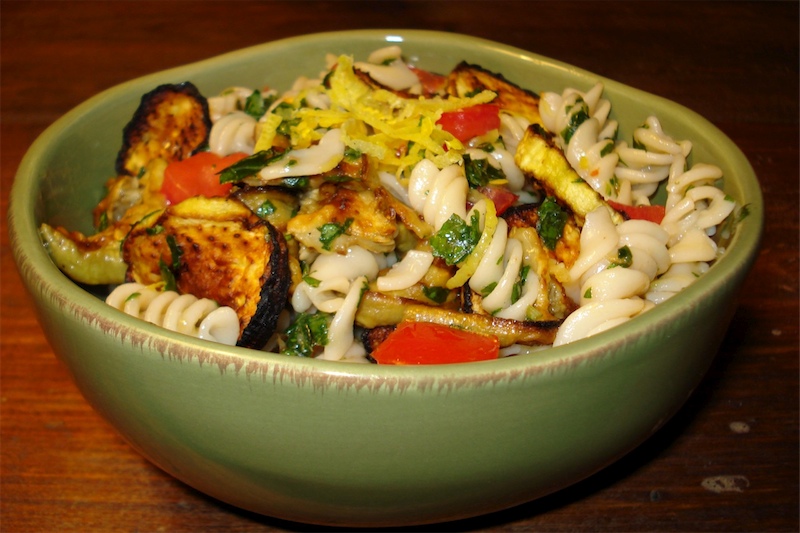 2 medium eggplant, peeled & cut into rounds (between 1 & 1.5 pounds)
1/2 cup extra virgin olive oil, plus extra for brushing on eggplant
pure salt & freshly ground black pepper (for sprinkling on eggplant)
1/4 cup lemon juice
1 tsp lemon zest
1 large garlic clove, minced or crushed
3/4 tsp pure salt
1/2 tsp red pepper flakes (or more)
1 lb whole grain pasta
2 large tomatoes, cored, seeded & diced
1/2 cup packed basil leaves, shredded (small food processor works well)
Place eggplant slices on a broiler sheet (in a single layer).
Lightly brush eggplant with oil & sprinkle with a little salt & pepper.
Cook under broiler until browned.
Remove pan from oven, & using a spatula or fork, flip eggplant slices.
Brush oil on second side & broil.
Cool & cut into bite-sized pieces.
Meanwhile, whisk lemon juice, zest, garlic, 3/4 tsp salt & red pepper in a large bowl (you'll eventually put the entire recipe into this bowl so make sure it's big enough).
Whisk in oil in a slow, steady stream until smooth.
When water for the pasta boils, add 1 TBSP salt & pasta, cook until al dente & drain.
Whisk dressing again to blend, add pasta, eggplant, tomatoes & basil.
Toss to mix thoroughly.
Can be served warm or at room temp.
______________________________________________________________________________________
SIDE NOTES

:

~ Adapted from "The Best Recipe" cookbook. Really LOVE this. It's a great summertime potluck dish.

~ The original recipe recommends using a grill for the eggplant, so light it up if you prefer.

~ After flipping the eggplant, don't forget to brush it with more oil.

~ I like to use a little extra lemon zest (and the zest is actually the secret ingredient for this dish).

~ If you want, make some extra eggplant & save it for a sandwich the following day. A *to die for* sandwich is lots of cold eggplant broiled this way, topped with juicy tomato salad on good, crusty, whole grain bread. For the tomato salad – chop up a few tomatoes & add diced, sweet onion, basil, oil, vinegar (or lemon juice), sea salt & pepper. If you prefer, you can usually buy tomato salad @ the deli section in your grocery store.

 For those with various food restrictions

, this recipe falls into the following categories:

Dairy Free, Gluten Free, Egg Free, Nut Free, Sugar Free, Grain Free, Vegan, Raw

If you're eating gluten free, be sure to use gluten free pasta.

[Note to self – tripling the recipe is way too much. A double batch is plenty to share as a side dish for a large group.]