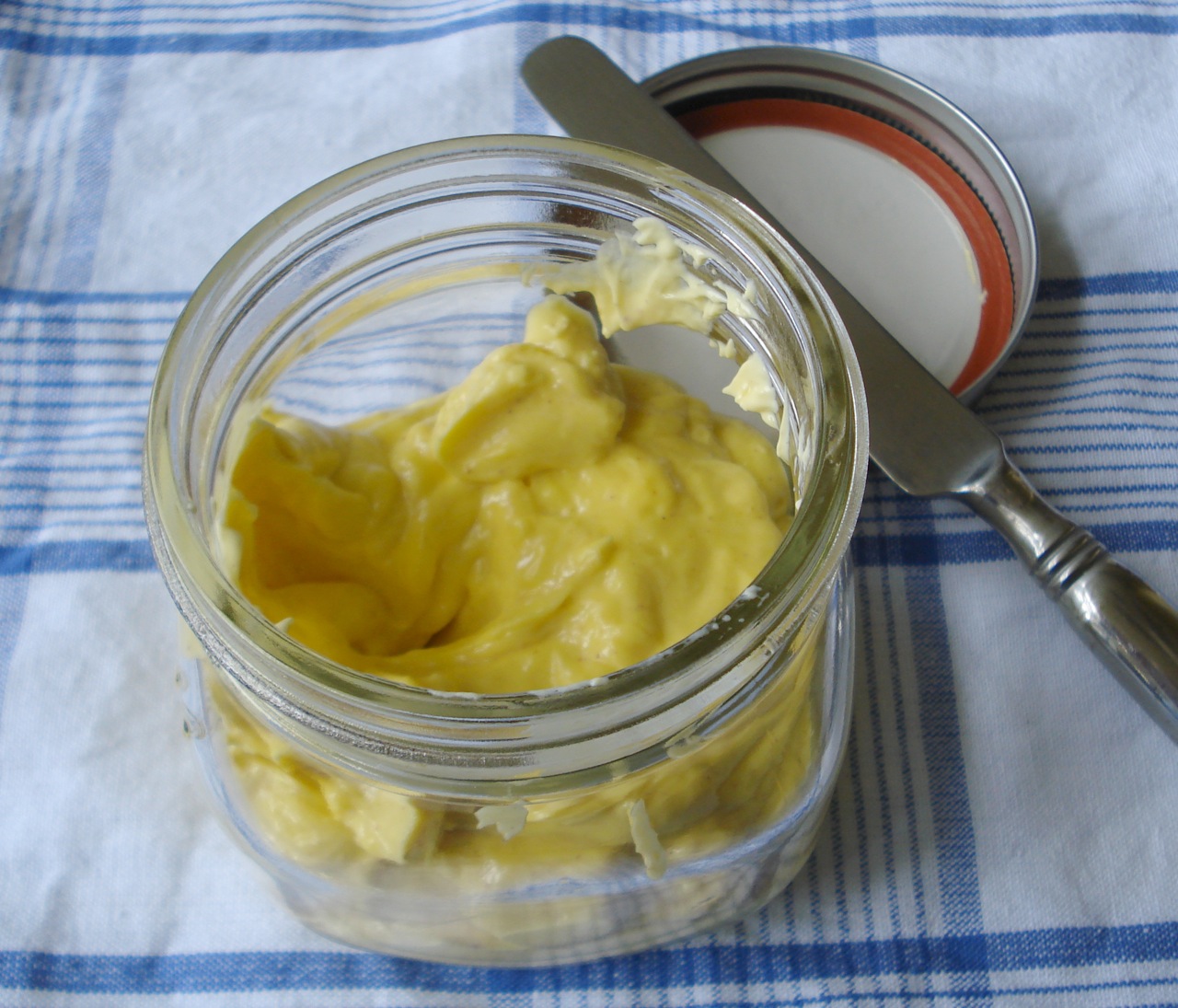 2 egg yolks
1 TBSP lemon juice or apple cider vinegar
1 tsp good quality mustard
1/4 tsp pure salt
3/4 cup extra virgin olive oil (or a combination of olive oil and coconut oil)
METHOD 1 – IMMERSION BLENDER:
Add ingredients to tall measuring cup in order listed. Add oil gently, as to not stir up the other ingredients – you want the egg yolks to stay on the bottom of the cup.
Gently place immersion blender into cup & keep pressed against the bottom while you slowly pulse the blender. You should start to see mayo forming at the bottom of the cup & rising up.
After a minute or 2, start to rock the blender back & forth to incorporate more of the oil, little by little.
Once you've got a good amount of mayo in there, you can move the blender up further, to incorporate the last portion of the oil.
Don't over blend – mix with a spoon to incorporate any last bit of lingering oil.
METHOD 2 – STANDARD BLENDER:
Add everything to the blender container except the oil.
With the blender running, slowly (and I do mean sloooooowly) drizzle in the oil. Make it the skinniest stream of oil you can until you've got mayo.
______________________________________________________________________________________
SIDE NOTES

:

~ Method 2 worked for me only occasionally. Sometimes produced nice mayo. Sometimes, it remained liquid.

~ I recommend method 1 for more consistent results. Just remember the key here is to pulse slowly and only move the blender around slightly – incorporating just a little oil at a time. (see demonstration video)

~ There's a 3rd way to do this which is simply using a bowl & a wire whisk. I've never tried this method myself, but I'm quite sure that adding the oil one drop at a time (as is suggested), and whisking like mad….well…..would hurt my arm & drive me insane!

~ Homemade mayo is delicious. And you can make great varieties by adding herbs and spices. Try adding 2 large, chopped garlic cloves instead of the mustard for a garlicky mayo.

~ Will yield 1 cup of mayo and last up to 2 weeks in the fridge.

~  I blend the ingredients right in the wide mouth, pint sized, glass  mason jar I plan to store the mayo in.  This way, there's no need to transfer.  Just put the lid on & you're done!  (The video shows my old method where I blend in a tall measuring cup, and transfer.)

~ Do not try to cut this recipe in half. Doesn't work.

~ Use extra-large eggs (& pick the biggest eggs from your carton).

~ Increase the salt to 1/2 tsp if you like it saltier.

 For those avoiding certain foods

, this recipe falls into the following categories:

Dairy Free, Gluten Free, Egg Free, Nut Free, Sugar Free, Vegan, Grain Free, Raw

If eating raw, be sure to use freshly squeezed lemon juice (or raw apple cider vinegar).  If eating gluten and/or sugar free, be careful choosing your mustard).