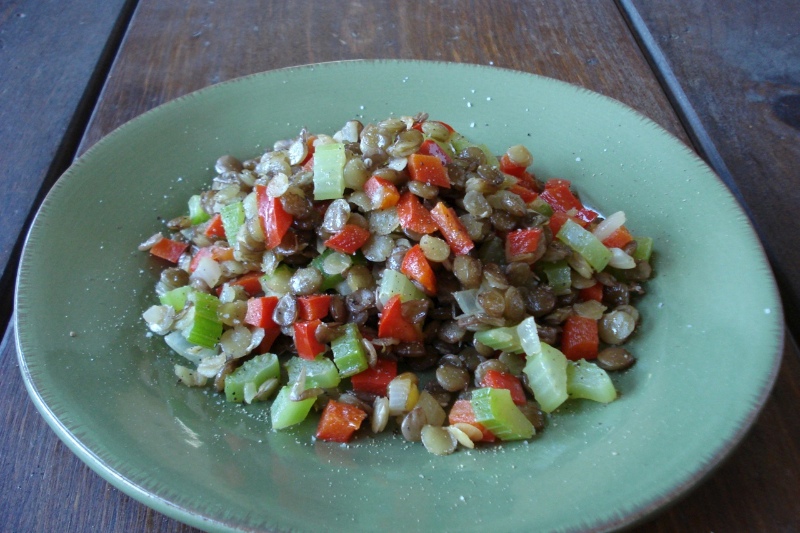 2 TBSP butter, ghee, or coconut oil
1/2 cup onions, diced
1 cup green or brown lentils* (sprouted if possible or soaked overnight) (see notes below)
1/2 cup celery, diced
1/2 cup red bell pepper, diced
pure salt & pepper to taste
Melt butter or oil in medium skillet over low heat.
Add onions and cook a few minutes until softened.
Stir in lentils, celery & peppers & cover.
Simmer approx 5 mins or until veggies and lentils are tender.
Season with salt & pepper to taste.
______________________________________________________________________________________
SIDE NOTES

:

~ Very basic, easy dish, where the natural flavors of the foods really shine through. Add a simple grain dish on the side & you've got a meal.

~ Beans, grains, nuts & seeds are more digestible and nutritious in their sprouted state. If you don't want to soak/sprout yourself, look for "truRoots" sprouted green lentils at your local health food store (in a yellow bag). Cook as directed on back of package (only takes 7 minutes), then add to this recipe as stated. Or – soak regular dry lentils in water overnight (measure after soaked & drained) & add to recipe as stated. Or – simmer dry lentils in water for 30 – 60 minutes until tender & add to recipe as stated. And just so you know, to sprout something, you don't necessarily need it to grow a tail. You just have to soak it for a specific amount of time (dependant upon what you're soaking). For instance, if you soak raw almonds for 7 or 8 hours, you've got sprouted almonds. You could keep going w/ the rinsing & soaking for a few days until they grow a tail, but none the less, tail or no tail, after 7 hours, you've got sprouted almonds. Will write a separate post on this at some point for those who are interested.

~ Butter is one of those things you really want to buy organic. Whether we're talking about a person, a cow, or any other animal, when toxic substances (pesticides, medications, food colorings & other chemicals….) are present in quantities too high for the liver to eliminate, they get stored in fat cells. Butter is almost pure fat, so if you're eating non-organic butter, whatever chemicals that cow was loaded up with will be present in high concentration in the butter. Raw, organic butter from grass fed cows is best, but a good quality store brand, pretty easy to find is Organic Valley. I like their European Style Cultured Butter or Pasteured Butter. 2 out of 3 ain't bad.

 For those with various food restrictions

, this recipe falls into the following categories:

Dairy Free, Gluten Free, Egg Free, Nut Free, Sugar Free, Grain Free, Vegan, Raw

If eating dairy free, use coconut oil instead of butter.