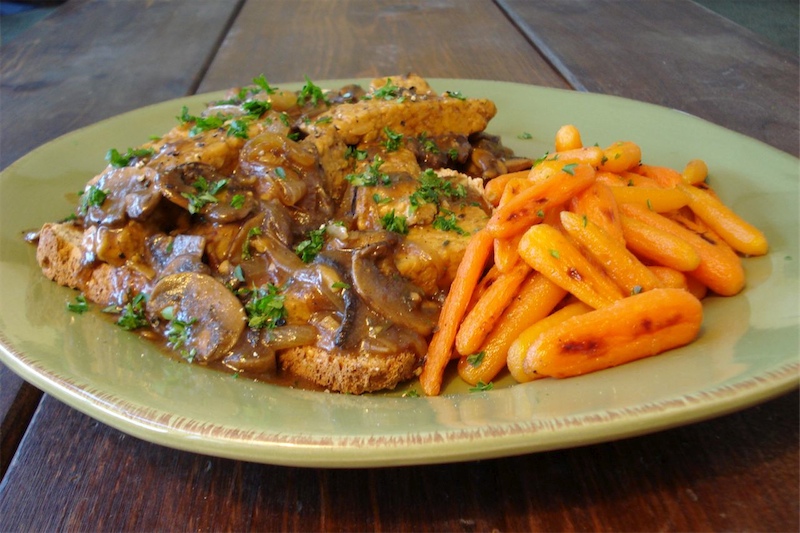 Well, my eyes were bigger than my stomach. there IS a piece of bread under there!
2 TBSP coconut oil
1 cup thinly sliced onion (about 1 medium onion)
1 cup thinly sliced mushrooms (any kind you like are fine)
1 garlic clove, finely chopped
1 TBSP finely chopped fresh sage
1 (8 oz) package of soy tempeh cut into strips
2 TBSP tamari/soy sauce
1 & 1/2 cups water (optional – see notes)
1 & 1/2 TBSP flour
your favorite bread, toasted
minced parsley for garnish (optional)
Prep the veggies.
In a large saute pan, warm the oil over medium heat.
Add the onion & cook, stirring occasionally until lightly browned.
Add the mushrooms, garlic & sage & cook for a minute or 2.
Push veggies to the side of the pan & add the tempeh.
Let tempeh brown a bit on one side (about 5 mins), then turn to brown other side and sprinkle in the flour (the flour will begin to stick to the pan).
Add soy sauce and the water.
Scrape up the flour & veggies from the bottom of the pan.
Bring mixture to a boil, then reduce heat & simmer, uncovered until the sauce thickens & the tempeh is cooked through, about 5 – 7 mins.
Spoon the tempeh & mushroom gravy over the toasted bread & sprinkle with parsley.
Serves 2.
______________________________________________________________________________________
SIDE NOTES

:

~ Adapted from "Fresh Food Fast" (one of my all time favorite cook books). This is what I like to make (on the rare occasion) I'm only cooking for myself, as I'm the only mushroom fan in the house. To me, this is a delectable & satisfying meal. I eat half for dinner, and reeeally love eating the leftovers for breakfast the next day. Just warm up the tempeh mixture, toast a few slices of bread & enjoy!

~ I usually go for portabello mushrooms, mostly because of the laziness factor… I'd rather wash less mushrooms (3 large portabello caps are much easier to clean than 15 smaller mushrooms). Besides, portabello are delicious, especially when sautéed this way =)  And for the record, 3 portabello caps (about 6 oz) are what I use when I double this recipe.

~ I sometimes reduce the water or skip it entirely (just mix in the soy sauce for a minute or 2 & spread over toast). Either way is great. Just depends on whether or not you're in a saucy mood!

 For those with various food restrictions

, this recipe falls into the following categories:

Dairy Free, Gluten Free, Egg Free, Nut Free, Sugar Free, Grain Free, Vegan, Raw

If you're eating gluten free, be sure to use a certified gluten free tamari, gluten free bread, gluten free flour, and "soy" tempeh (the "three grain", "flax" & "veggie" tempeh all contain gluten).