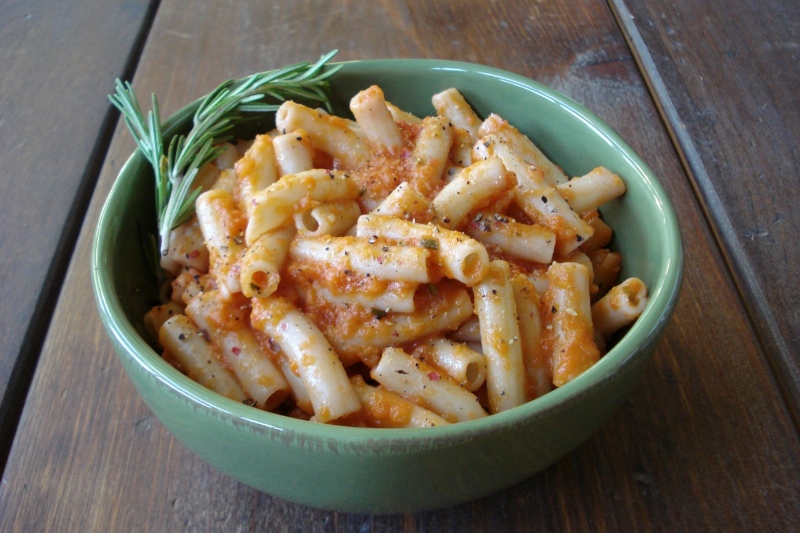 3 TBSP extra virgin olive oil
1 medium onion, minced (or chopped)
1 tsp minced fresh rosemary leaves
1 28 oz package whole plum tomatoes, drained & chopped
1/2 tsp pure salt
freshly ground black pepper to taste
1 lb whole grain penne or ziti
2 tsps balsamic vinegar
Boil water for pasta.
Heat oil in a large saute pan and add the onion, sauteing over medium heat until translucent – about 5 mins.
Stir in the rosemary & cook for 30 seconds to release its flavor.
Add the tomatoes, salt & pepper and simmer until the sauce thickens – about 10 mins.
Cook pasta until al dente & drain.
Add balsamic vinegar to sauce.
Toss in pasta & serve.
______________________________________________________________________________________
SIDE NOTES

:

~ EASY, QUICK & GOOD! From "The Complete Italian Vegetarian Cookbook"

~ I suggest sticking with fresh rosemary for this one & not substituting dry (but in a pinch, do what you must!).

~ See my FAVORITE-KITCHEN-TOOLS page for an easy tomato chopping suggestion.

~ I sometimes throw this sauce in the blender when in the mood for a smoother sauce (photo shows blended version).

~ Pass the parmigiano if you like it.

 For those with various food restrictions

, this recipe falls into the following categories:

Dairy Free, Gluten Free, Egg Free, Nut Free, Sugar Free, Grain Free, Vegan, Raw

If eating gluten and/or sugar free, use an appropriate pasta (brown rice pasta is our personal preference), and double check labels of any packaged products such as tomatoes.