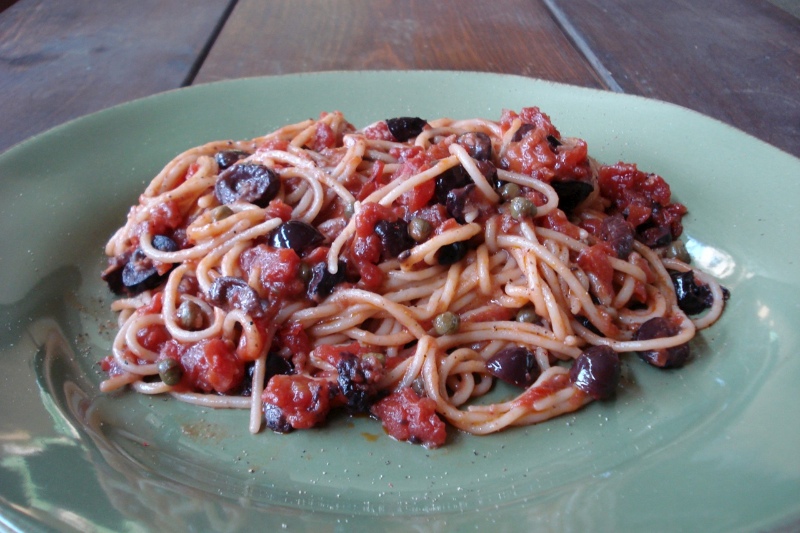 3 TBSP extra virgin olive oil
3 medium garlic cloves, minced or crushed
1/2 tsp crushed red pepper flakes
28 oz package whole plum tomatoes, drained & chopped
1/2 cup good quality black and/or green olives, pitted & chopped
1 TBSP drained capers, rinsed
1/2 tsp pure salt
1 pound whole grain spaghetti
Saute garlic & red pepper flakes in the oil over medium heat until the garlic is golden, about 2 mins.
Add the tomatoes, olives & capers.
Simmer over medium-low heat, stirring occasionally, until the tomatoes soften & the sauce thickens, about 15 mins.
Add salt.
Cook pasta until al dente & drain.
Toss spaghetti w/ sauce & serve.
______________________________________________________________________________________
SIDE NOTES

:

~ From "The Complete Italian Vegetarian Cookbook."

~ I use a slotted spoon to scoop the tomatoes into a bowl for chopping. Some of the juice from the can ends up in the bowl but that's fine. No need to drain further. It's good a little juicy!

~ "Mediterranean Organics" black olives come already pitted, making it really easy to just chop em up. Delallo's organic jumbo calamatas in brine are also very high quality (although not pre-pitted).

 For those with various food restrictions

, this recipe falls into the following categories:

Dairy Free, Gluten Free, Egg Free, Nut Free, Sugar Free, Grain Free, Vegan, Raw

If eating gluten and/or sugar free, use an appropriate pasta (brown rice pasta is our personal preference), and double check labels of any packaged products such as tomatoes, olives & capers.