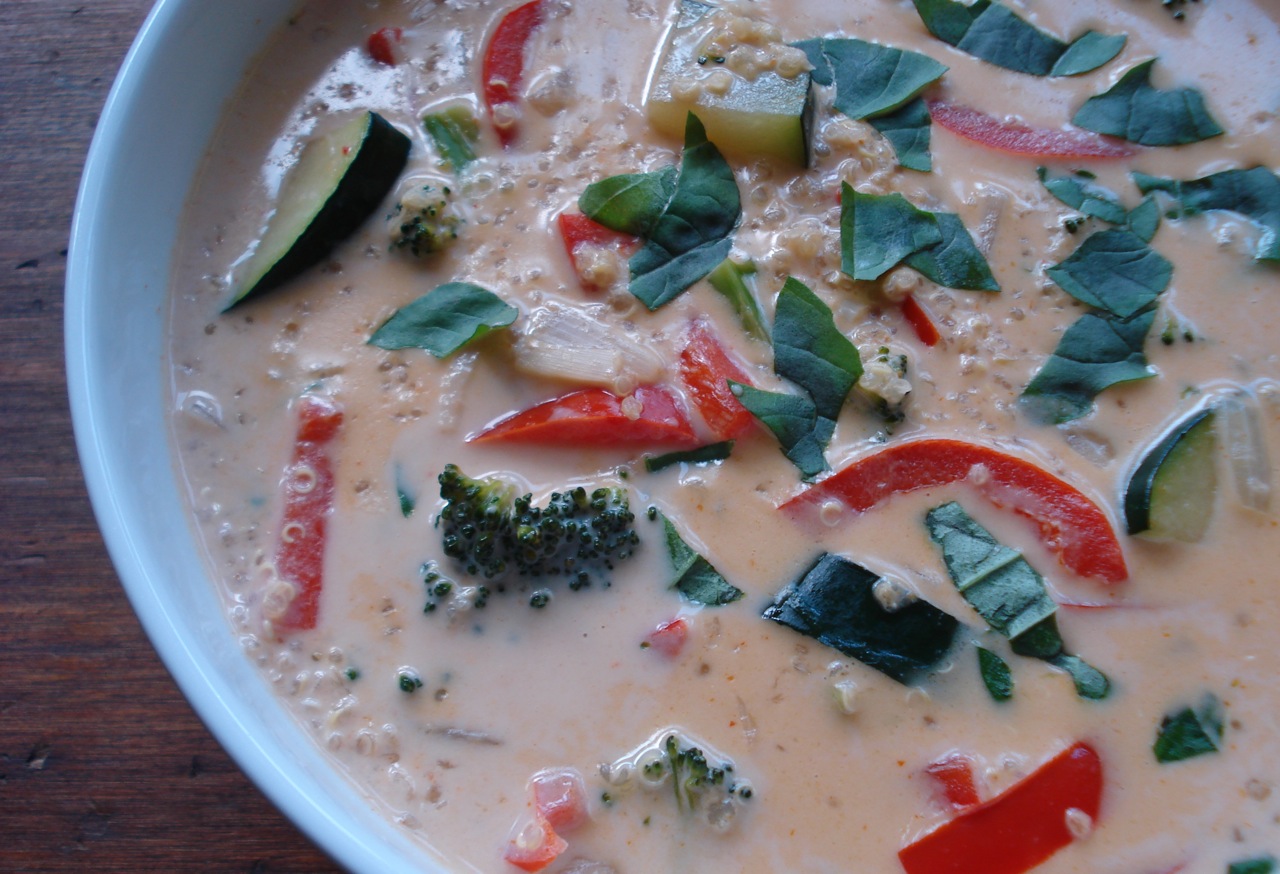 For the Veggies/Protein

:

1 – 2 TBSP coconut oil
5 cups assorted chopped vegetables (carrots, zucchini, bell pepper, bamboo shoots, mushrooms,    broccoli, cauliflower, string beans)
protein of choice (pre-cooked): shrimp, diced chicken, or tempeh
1/2 cup to 1 cup fresh basil leaves
For the Sauce

:

1 (14 oz) can unsweetened coconut milk
1 to 2 TBSP Thai red curry paste
2 & 1/2 TBSP natural sugar (or about 15 drops of liquid stevia)
2 TBSP tamari/soy sauce
If you'd like to eat this curry over a grain

:

cooked brown rice (I like short grain) or cooked quinoa
Cook rice according to package directions.
Prep vegetables.
Combine the sauce ingredients and set aside (I use a large measuring cup for easy pouring).
Heat oil in large saute pan and stir-fry vegetables for 5 – 10 mins (add firmer veggies to the pan first).
Pour sauce over vegetable mixture and add the protein.
Continue cooking until the sauce & protein is heated through.
Stir in chopped basil (saving some for garnish if desired).
Add a scoop of rice (if using) to each individual serving bowl, top with vegetables/protein, plenty of the curry sauce, and a handful of basil.
______________________________________________________________________________________
SIDE NOTES

:

~ We LOVE Thai food. Don't have a local Thai restaurant, so mostly eat it while traveling. Like many people, when first introduced to Thai food, I started with pad-thai and that was my dish of choice for years. I eventually graduated to this type of red curry dish and have stuck with it.  At home, I've tried a few versions over the years that were pretty good, but this one is perfect (to us anyway).  It came from Vegetarian Times magazine, but through trial and error, I've changed it so many times over the years, there is almost no resemblance to the original recipe, so I consider it my own at this point  =)

~  If you're looking for a minor short cut or 2, you can pick up frozen, pre-trimmed, organic string beans and a can of bamboo shoots (less prep work for when you don't have the time).

~  I sometimes double the sauce when I'm in a super saucy mood.  (Saucy version pictured above.)

~ If you can get Thai basil, that's an added bonus, but regular basil works just fine (use as much or as little of it is as you'd like).

 For those with various food restrictions

, this recipe falls into the following categories:

Dairy Free, Gluten Free, Egg Free, Nut Free, Sugar Free, Grain Free, Vegan, Raw

If eating gluten free, be sure to use a gluten free tamari and double check labels of any packaged ingredients (Thai Kitchen brand red curry paste is gluten & sugar free).  If eating grain free, omit the rice/quinoa.  If avoiding sugar, use stevia or lakanto in the sauce instead of sugar.

Up top, it's shown with red bell pepper, zucchini, broccoli and quinoa.  Shown below with shrimp, carrot, zucchini, broccoli, and rice: