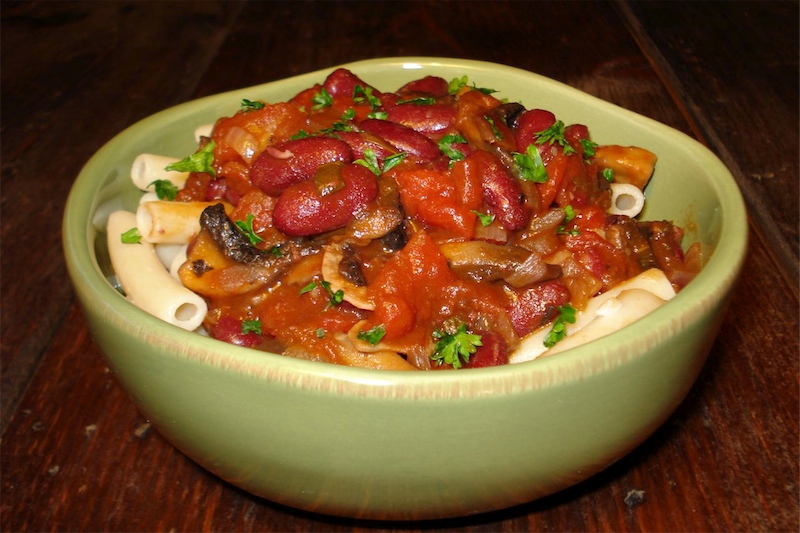 2 TBSP coconut oil, butter, or ghee
1 cup diced red onion
4 garlic cloves, thinly sliced
7 fresh sage leaves, chopped
2 large portobello mushrooms, washed, stems removed, caps sliced
1 tsp paprika
1/4 tsp cayenne pepper (or more!)
1/2 cup dry red wine
1 (14 oz) can whole peeled tomatoes w/ their juice, chopped
1 (15 oz) can kidney beans (or pintos, or adzukis)
2 tsps tamari/soy sauce
1/4 cup gruyere cheese for garnish (optional)
2 TBSP chopped fresh parsley for garnish (optional)
In a large saute pan over medium heat, warm the oil or butter until hot, but not smoking.
Add the onion, garlic, sage & 1 tsp of salt & saute, stirring occasionally, for 2 minutes.
Raise the heat & add the mushrooms, paprika & cayenne.
Saute until the mushrooms soften, about 2 mins.
Add the wine to the pan with the ragout, scrape up the brown bits stuck the bottom of the pan & bring to a boil.
Continue boiling until slightly thickened, about 2 mins.
Add the tomatoes w/ their juice, beans w/ their liquid, & tamari.
Reduce the heat to medium and simmer, uncovered, until the liquid has reduced to a rich sauce, about 10 mins.
Add salt & pepper to taste.
Serve on top of whole grain pasta or brown rice, or eat it as a stew w/ crusty bread or add more water or veggie broth & eat it as a soup.
______________________________________________________________________________________
SIDE NOTES

:

~  Adapted from "Fresh Food Fast"

~ I tweaked this recipe a bit. The original recipe calls for "hot" paprika. I've never been able to find this kind of paprika anywhere. So, I just use regular sweet paprika & add cayenne to give it a kick.

~ It's easiest to chop the tomatoes in a mixing bowl (because they are so juicy & the idea is to not lose the juice running off the side of a cutting board). See my 32-FAVORITE-TOOLS-&-GADGETS page for tip on this.

~ Do not rinse or drain the beans.

~ Gruyere is a type of swiss cheese. I've never tried this recipe w/ cheese but it's probably pretty good if you go that way =)

~ Do all your chopping before you start cooking, as you add ingredients pretty quickly & don't have time to chop things as you go.

~ The next day, the sauce really thickens up & I like to eat it on bread as an open faced sandwich.

~ My husband doesn't like mushrooms. If there are mushrooms in a dish, he pushes them to the side, but he eats them in this dish.

 For those with various food restrictions

, this recipe falls into the following categories:

Dairy Free, Gluten Free, Egg Free, Nut Free, Sugar Free, Grain Free, Vegan, Raw

If eating dairy free, use coconut oil and omit the cheese.  If eating gluten and/or sugar free, be sure to choose a gluten free tamari and check the labels of any canned goods (tomatoes/beans).  Wine is generally gluten free, but it's best to check with the manufacturer of the particular wine in question.