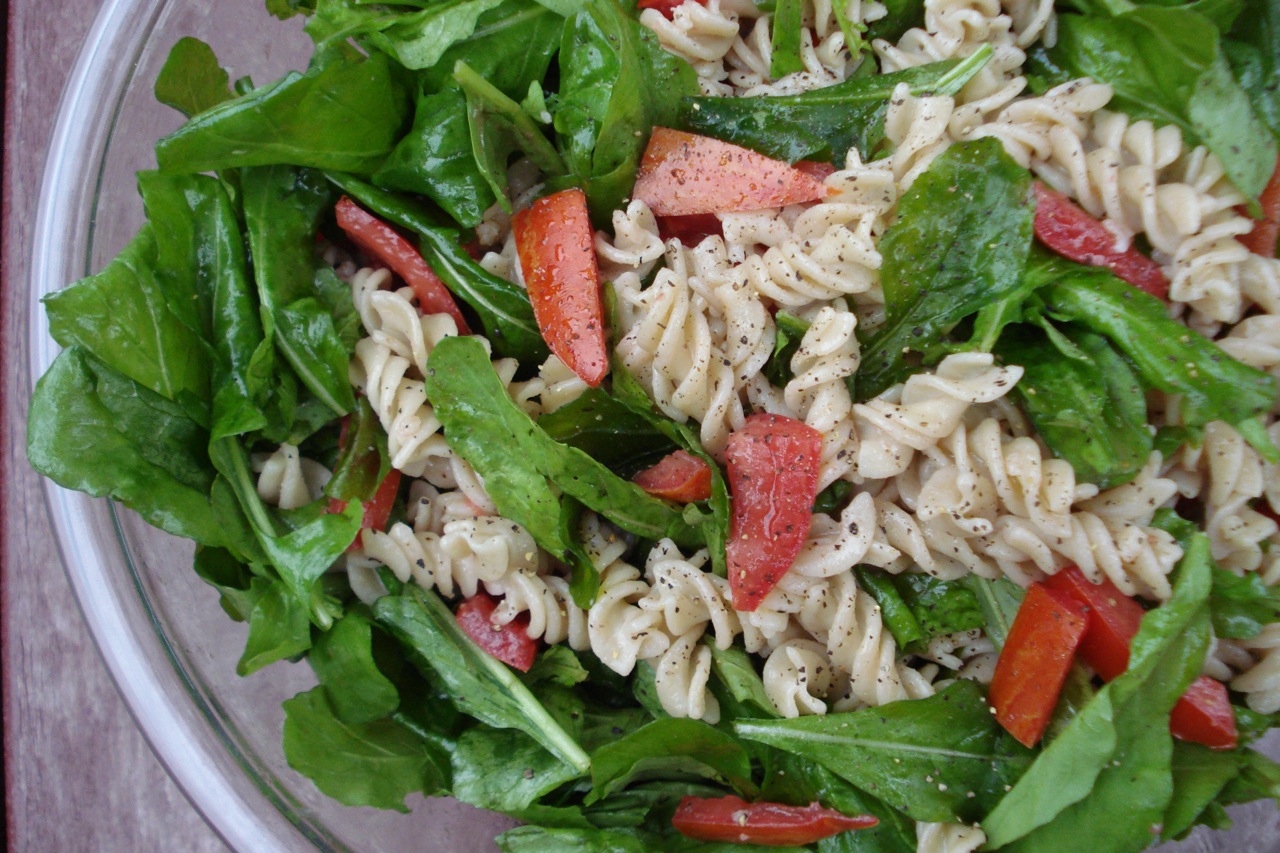 4 cups arugula leaves (stems removed)
3 TBSP butter, ghee, or extra virgin olive oil
2 medium garlic cloves, crushed or minced
3 medium, ripe tomatoes (about 1 & 1/4 pounds), cored & chopped
pure salt
freshly ground black pepper
1 pound whole grain pasta
Boil water for pasta.
Wash & dry arugula.
Slice the leaves into thin strips & set aside in a bowl large enough to hold the cooked pasta.
Heat the oil in a skillet.
Add garlic & saute over medium heat about 2 mins.
Add the tomatoes & salt to taste & cook, stirring occasionally, just until the tomatoes are heated through, about 2 mins.
Cook pasta until al dente, drain, & toss with arugula and tomato mixture. Add black pepper & serve.
______________________________________________________________________________________
SIDE NOTES

:

~ Adapted from "The Complete Italian Vegetarian"

~ This is sort of like a pasta salad. You can eat it warm, room temp, or cold.

~ I've come to love the peppery flavor of arugula ever since being introduced to it through our CSA farm. This recipe is a great, easy way to enjoy it.

~ I usually don't slice the arugula leaves since they're on the small side to begin with, but some might like smaller pieces of greens…..either way will work.

~ I actually prefer this dish without heating the tomatoes (I just add them raw to the bowl with the arugula). I have this "thing" with tomato skin (or pepper skin). It's fine if it's still fully attached to the vegetable – but I can't eat it when it's hanging off or completely separated. Once you heat the chopped tomatoes, the skin gets really loose & starts to peel off. Thought I'd mention it in case anyone else has this same, odd aversion.

 For those with various food restrictions

, this recipe falls into the following categories:

Dairy Free, Gluten Free, Egg Free, Nut Free, Sugar Free, Grain Free, Vegan, Raw

If eating dairy free, use oil instead of butter.  If eating gluten free, be sure to use an appropriate pasta.