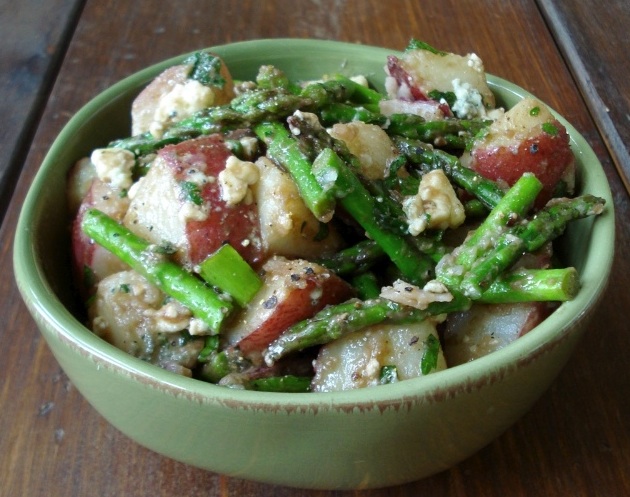 2 pounds small new (red) potatoes, cut into bite sized pieces
1 pound asparagus (about 1 bunch), bottoms removed & cut into thirds
6 scallions, chopped
1/2 cup parsley, chopped
6 TBSP extra virgin olive oil
3 TBSP balsamic vinegar
pinch of natural sugar (or stevia)
pure salt & freshly ground black pepper to taste
crumbled blue cheese (optional)
Boil potatoes for about 10 mins in salted water (until a fork pokes through w/ ease).
Steam asparagus until just bright green & crisp (about 4 or 5 mins).
Combine the scallions, parsley, oil, vinegar, sugar, salt & pepper, in a bowl large enough to hold the potatoes.
When ready, add potatoes, asparagus & mix to combine.
Add blue cheese (if using) & mix again.
______________________________________________________________________________________
SIDE NOTES

:

~ My Mom found this recipe a few years ago & it has become a staple dish she serves to guests (as everyone seems to love it). I finally made it myself here at home. I happened to receive a big bag of fresh red potatoes from the farm, so this recipe put them to good use.

~ Personally, I like thicker asparagus if I'm roasting it, but prefer it thinner (if I can get it) for a dish like this.

~ I changed the ratios of the dressing ingredients as it was way too oil heavy before (originally called for something like 3/4 cup of oil). Adjust the amount of scallions, parsley, vinegar & oil to your taste.

~ It's best served warm, but is also tasty cold – out of the fridge.

 For those with various food restrictions

, this recipe falls into the following categories:

Dairy Free, Gluten Free, Egg Free, Nut Free, Sugar Free, Grain Free, Vegan, Raw

If eating sugar free, omit the sugar or use stevia or lakanto.  If you're avoiding dairy, omit the blue cheese.