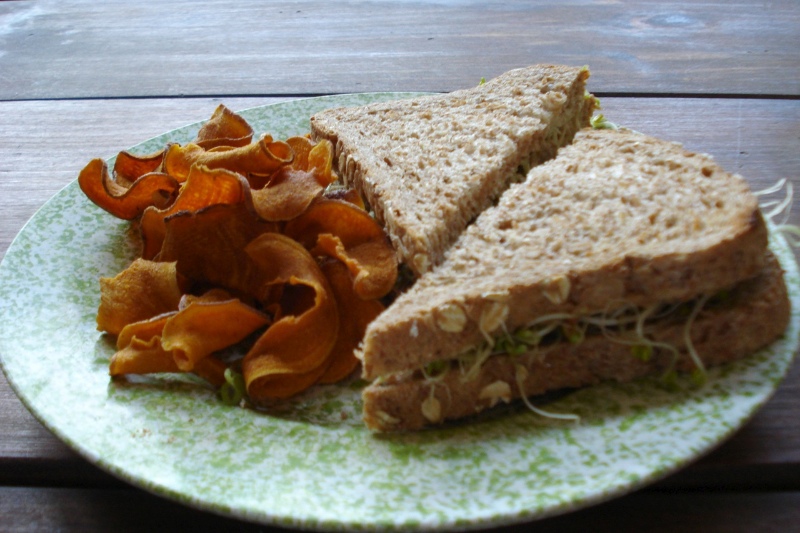 Add to food processor:
1/2 medium red bell pepper
1/2 medium zucchini
1/3 cup pimiento-stuffed green olives
1 or 2 scallions (green part only).
Pulse just a few times to keep a chunky texture.
Add the following ingredients & pulse again:
2 cans pinto or adzuki beans rinsed & drained
1 TBSP lemon juice
1/2 tsp (rounded) chili powder
1/2 tsp (rounded) ground cumin.
~ Keep it as chunky or make it as smooth as you want. Spread on your favorite bread, add sprouts, mayo or mustard, tomato if you feel like it, etc… Adapted from "Vegetarian Express"
 For those avoiding certain foods

, this recipe falls into the following categories:

Dairy Free, Gluten Free, Egg Free, Nut Free, Sugar Free, Vegan, Grain Free, Raw

Check your olive label if you're eating sugar/gluten free.
______________________________________________________________________________________
Another good bean spread from my friend Lynn…..
BEAN PATE SANDWICH w/ MUSTARD
Puree the following ingredients in a food processor:
2 cans pinto beans
1/4 cup lemon juice
1 TBSP minced garlic
2 TBSP chopped red onion (can alternately use a little onion powder for convenience & milder flavor)
1 tsp cumin
1/4 tsp cayenne pepper
1 TBSP olive oil
1 tsp cilantro or parsley (optional)
Refrigerate over night (or at least 4 hours).
 For those avoiding certain foods

, this recipe falls into the following categories:

Dairy Free, Gluten Free, Egg Free, Nut Free, Sugar Free, Vegan, Grain Free, Raw